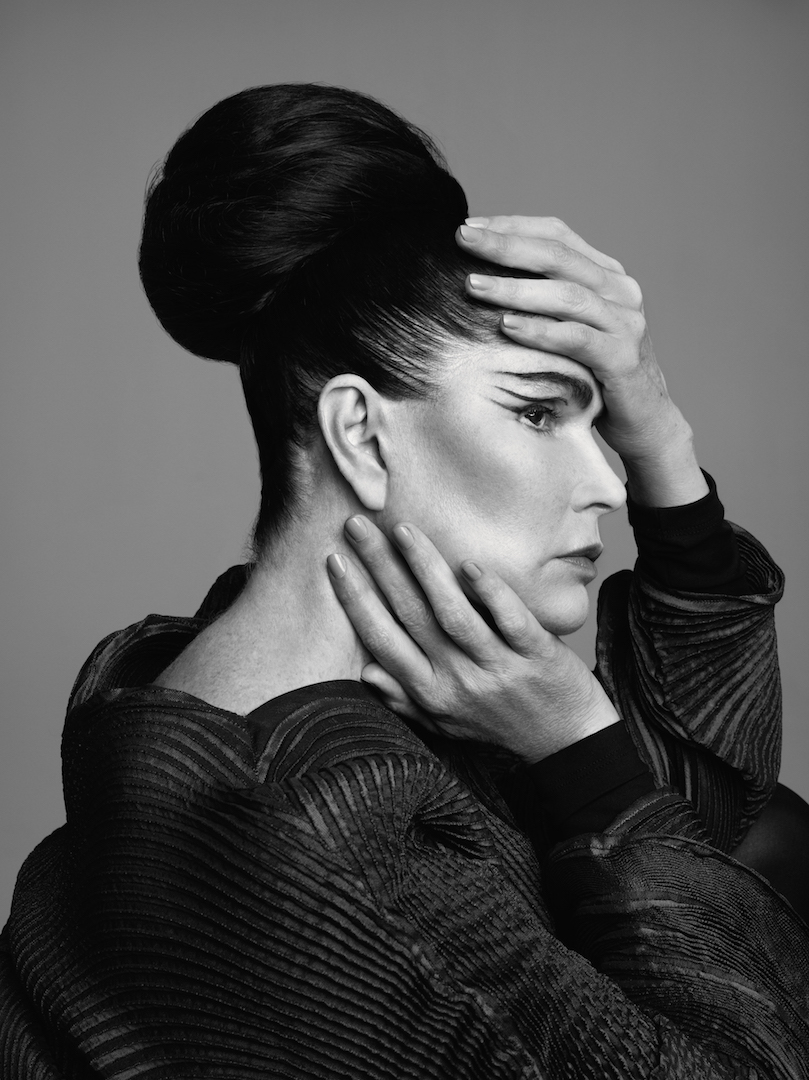 Kim Williams is tough to miss. The southern belle turned avant-garde muse was appropriately dressed in something black, Japanese, & architectural when we met up with visionary makeup artist Regina Harris to chat about her evolving career and our Martha Graham-inspired collaboration with Issey Miyake. Regina's casting of Kim in the role of Martha in this issue's "Artist & Portrait" series felt like an apropos choice for our Evolution issue. Both women were instrumental in altering the perception of feminine roles & fearlessly broke new ground in their respective fields. Kim's translation of her iconic style came to life with the help of wardrobe by Issey Miyake — something that Martha herself most certainly would have worn. Both women were instrumental in altering the perception of feminine roles & fearlessly broke new ground in their respective fields. Martha Graham (May 11, 1894 – April 1, 1991) was an American modern dancer and choreographer pioneered contemporary dance, and her influence has been com- pared with that of Picasso's in modern visual arts.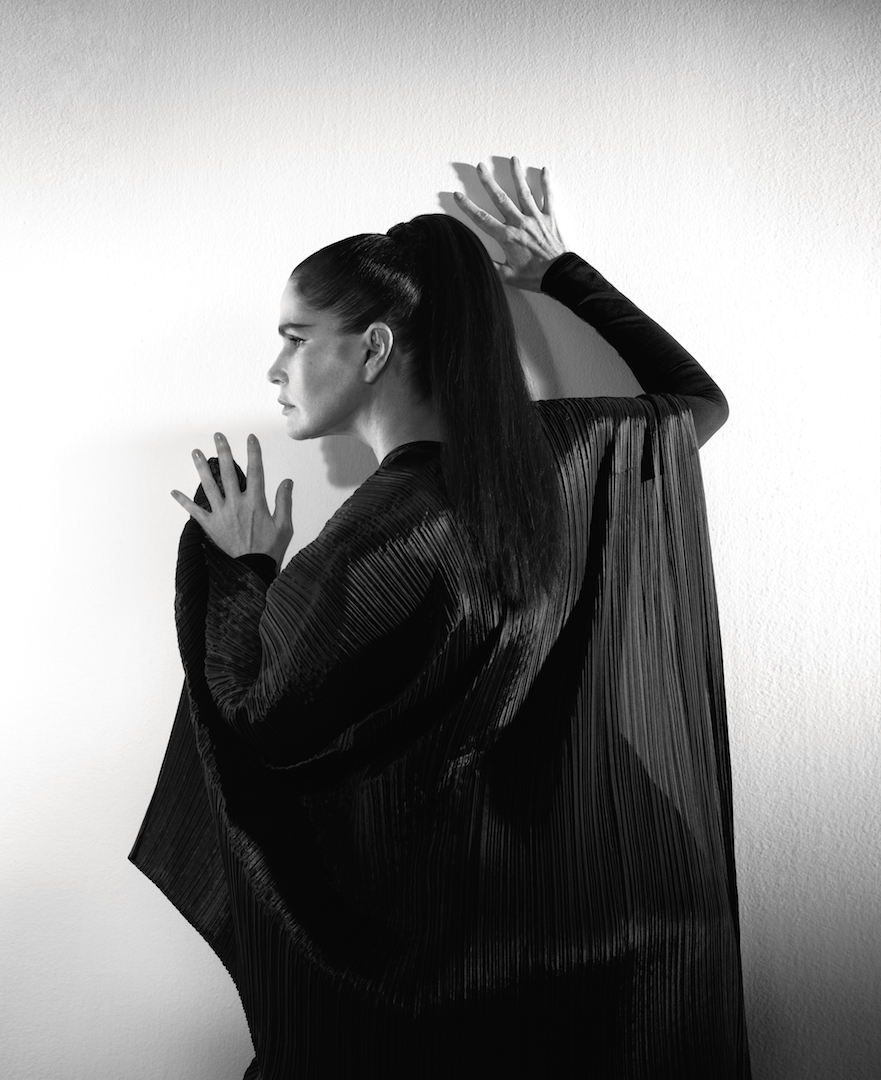 RH: you really emerged as a model during the Japanese fashion explosion in the west and have worked as a muse for Issey Miyake, Rei kawakubo from Comme des Garçons and Yohji Yamamoto. why do you think you resonated so strongly with them?
KW: I was basically sitting in a coffee shop thinking I should go home because I could never be one of those girls who run out and throw kisses to the crowd. At that time runway models were very dramatic. That all changed when the Japa- nese came to town. The runway work I did with Yohji Yamamoto and Comme des garçons was simple and straightforward. My first season working with the Japanese, Yohji asked me if I was also doing a show with Rei — who at the time was his girlfriend. He sensed that if he was choosing me she would as well. At that point I wasn't getting any shows, I was not one of those sexy models, I was quiet and that is what they wanted. After that first show in Japan I came to Yohji and said told him I was sorry for messing up the show, but he responded by saying "no — you're the only girl who didn't mess it up." It took me years to understand that. The clothes wore you; they were to speak for themselves.
RH: it seems like you are often put with an avant-garde grouping, which is interesting considering you come from a somewhat traditional south- ern background.
KW: If I were a normal girl showing clothes I would have lasted for two min- utes. It's what comes out from the inside that has kept me going for 30 years. After that first show for Yohji, he took me to Japan and Thailand as well. It was a gigantic opportunity for someone who was at that point doing nothing. That was the beginning of a 10-year period working with avant-garde designers. Rei would call me and say "I made this collection for you, you have to come." I loved her clothes so much that I ended up wearing one of her pieces as my wedding gown. When I returned home with the Comme des garçons piece my horrified mother immediately took me to the local bridal shop to find a replacement. After trying on several white fluffy gowns the shopkeeper said she really couldn't sell us a dress, the one I had brought (from Comme) suited me best. Rei's design sensibility was a great inspiration to me.
RH: aside from the Japanese designers you have also modeled for include Jil sander, Hermès, marc Jacobs, and calvin klein, as well as photographers such as Steven Meisel and Peter Lindbergh. do you feel the role of a "muse" has changed?
KW: Something I miss about this business is that back then everyone would collaborate together. Models didn't just stand there like a hanger. Working with Steven Meisel we even had a big mirror behind him which is unheard of today. The mirror was to show you what he was seeing as though you were looking through his lens. It was very collaborative and gave the model a chance to take an active part in the creative process by playing with form and shape. I never once thought of looking at my makeup or my hair, it was just about the shapes. Years later I was working on a Christian Dior beauty campaign with Jeanloup Sieff and was really struggling. I found a tiny little mirror hanging across the room — it was almost that god meant for me to find it. I could never have asked Jeanloup for a mirror, he would never have understood, but because of it we got the shot.
RH: on set you play with fabric in space to give them life, which is why i felt there was a strong connection with martha Graham and a dancer's working process. when martha was filmed for the first time for a documentary, she felt vulnerable and petrified to move. they had to start by filming her in the dressing room putting on her makeup.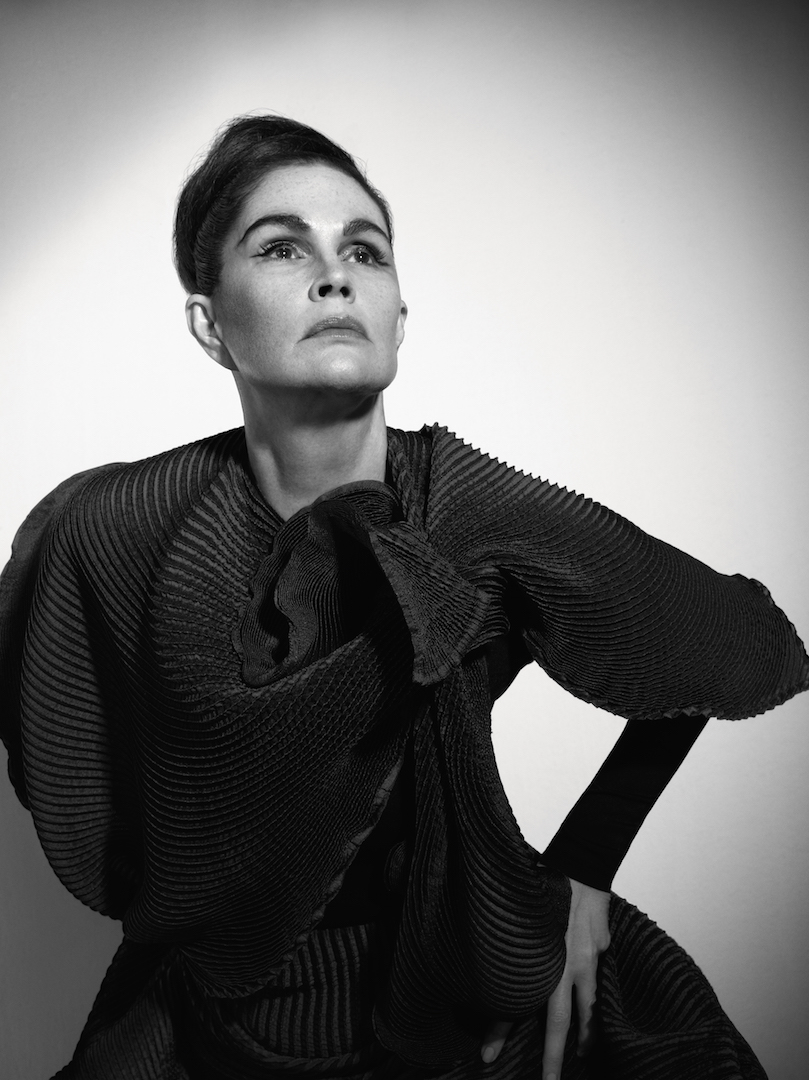 KW: I really wanted to try and embody Martha. I didn't know if I could — and certainly most of my movements are wrong — but I wanted to try. I am a very damaged person, and I felt an emotional connection to her in that way. I always wanted to be a dancer but my parents couldn't afford the training.
RH: your shoots have often seemed to require a lot of acting. in particular there was a famous steven meisel prostitute story with italian Vogue, which really took you away from your comfort zone.
KW: When I started out I was rejected a lot. Once I got past that the rejection helped motivate me and I think allows me to look at modeling differently than the girls who were always all-American beauties. I don't want to just stand there and do a picture, I have to suffer and hurt before I feel like I have created a great image. That night at the Eiffel Tower with Meisel I probably had six wigs on (Ju- lien d'Ys and I went shopping for them together in Paris) and my face was pulled so far back I was in terrible pain. I had sores around my body from the tape marks, so much makeup that my face was burnt for two days, and was wearing the highest heels. I also had a little bit of a tummy — but the real prostitutes out that night at Pigalle had little tummies too. They were hard-working women who thought I was the real thing, so I felt like I was the real thing. It had to be model that had flaws to take on that role because the girls who were there that night had flaws. I did things that night I didn't think I had in me — when you really get into a role things just creep out, it's magical.
RH: do you find yourself now being told that you should model differently now that you are older?
KW: My grandfather told me when he was 75 that you never change, you're al- ways the same person, you just feel worse. Now I understand what he meant. I am a lot older now but I am still the same person. Today I am constantly told that women over 40 have to smile. For someone with my background it's almost like a beating. I once walked out of a casting and said to myself I think I was just spanked. I'm not Christie Brinkley, I smile with my eyes.
Photographer / Marco Grob
Hair / Eloise Cheung
Makeup / Regina Harris
Producer / Ricky Kim
Featuring / Kim Williams @ Trump Legends
Many Thanks To Matthew Sess @ Dakota Studios