Music has an anatomy: the bridge connects to the refrain, the undertow of percussion supports the strings. But only some songs exploit these components effectively, eliciting a transformative experience—one that takes the listener out of their body. Trance purports in its name to achieve exactly that, a trance state. Pop creates a similar cycle of satisfaction with its repetitious refrains. And when classical opera pairs its vocal contortionists with their luscious costumes, it too renders the body forgotten.
But there is perhaps no better metaphor found for this guttural satisfaction than in the dark caverns of New York City's nightclubs. In the '80s, '90s, and early 2000s, club kids were a breed of their own. The call to the club was synonymous with the call to escape. "To club," as a verb, meant to engage in an innately American impulse that blurred the boundaries between entrepreneurialism and consumption. As Michael Alig submits in the 1998 documentary "Party Monster: The Shockumentary," "Club Kids were very current… Of the packaging, press, corporation, out-for-yourself, money-for-nothing…'Give me money because I'm fabulous because I say so.'" The NYC club is a beautiful limbo: a respite from and an outcropping of the flow of capital demanding to be spent and made as quickly and as ostentatiously as possible.
The great poet wrote, "Who loves, raves." Byron knew best of all that to love is to destroy. Palladium may now be an NYU dorm; the Limelight, a David Barton Gym; and the music, a world away, but the pursuit of this sensation—the delirious loss of self—perseveres. For better or for worse, this art compels us to enjoy our symptom, and it is an act of self-love. Byron continues, "—'tis youth's frenzy—but the cure / Is bitterer still: as charm by charm unwinds."

And so, photographer Roy Schweiger takes us by the hand into the darkness.
Guy: Garter vest by Jade Chiu, Jacket and pants by Dolce and Gabbana from Arbitrage Archive NYC
On extra: Mask by Couture Mask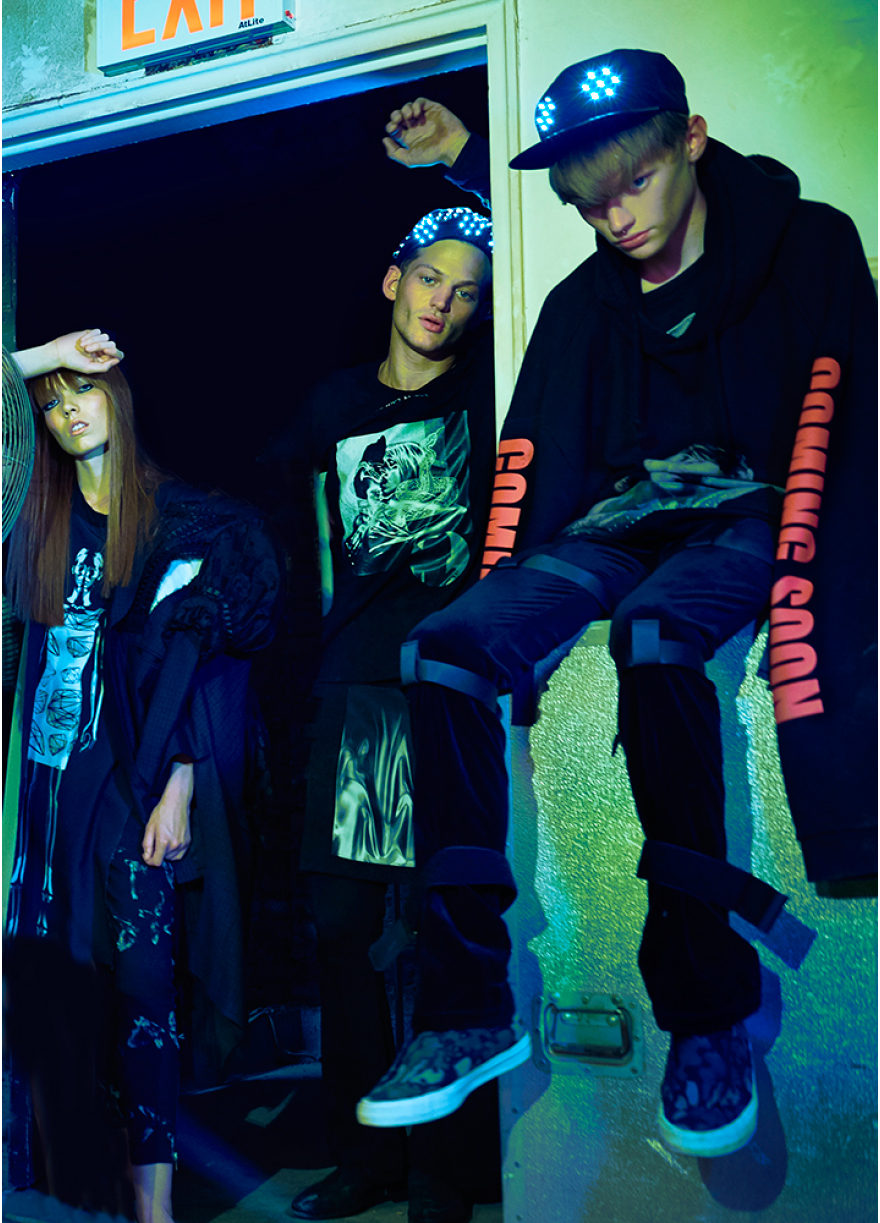 Girl: Jacket by Comme Des Garçons, Apron by Snezhana, Leggings by True Religion
Standing guy: Top by Siki Im, Pants by Trussardi , Kilt by We Are Mortals.
Sitting guy: Sweater by  Vetements , Pants by Dolce and Gabbana from Arbitrage Archive NYC, Sneakers by Converse, Hat by Couture Mask
Fur shawl by Pologeorgis , Jacket by Andrew Morrison, Top underneath by Viktor Luna, Pants by  Dior Homme by Hedi Slimane from Arbitrage Archive NYC
GIRL:  Silk crepe dress by Prabal Gurung , Nylon fishnet bodysuit by Dur Doux, Patent leather ruffle choker by Carolina Sarria, Suede and Metal chain shoes by Cynthia Ferragni
Standing guy: Nylon jacket and pants by Dolce and Gabbana from Arbitrage Archive NYC, Leather basketball sneakers  by Diadora
Sitting guy: Leather embroidered and spray painted biker jacket by Scooter Laforge from Patricia Field NYC, Black wool blend and poly insert pants by Raun Larose, Leather basketball sneakers by  Alberto Guardiani.
Guy: Suit & shirt by Kenzo, Scarf by Landeros, Shoes by Alberto Guardiani.
On extra: Couture Mask, Corset by Veritee Hill.
 Team Credits:
Photographer: Roy Schweiger
Creative Director: Andrew Basile
Stylist: Jonzu Jones
Make Up: Roberto Morelli
Hair: Dante Blandshaw
Production Director: Bennett Meier
Casting Director: David Chen
Music Producer : DJ Amore
Digital Tech: Gabriel Montagnani
First Assistant: Arthur Axis
Photo Assistants :
Ivana Stojkov
Cait McCarth
Thais Aquino
Gili Levinson