If you've never seen Ritesh Batra's first feature film, "The Lunchbox" (or Dabba, as it was originally titled in Hindi), see it now. Of course if you have seen it, you'll know Batra's second feature (his first in English), "The Sense of an Ending," must not be missed.
As for fans of Julian Barnes' 163-page Booker Prize winning novel (upon which Batra's film is based), it's hard to imagine how any story could be any more challenging to translate into a film. Its protagonist—and the book's wildly unreliable narrator—Tony, is neither Proust nor Casanova. He has a poor memory, and too desperately wants to believe the best about himself, as he tells the story of Veronica, his first true love, and how she left him for his best friend almost fifty years earlier. The surprising news that Veronica's mother has recently died (leaving Tony a small legacy), sets him on the quest to find Veronica. Needless to say, Barnes' telling is masterful.
But so is Batra's. And much of this must be credited to Batra's choice of particularly gifted actors—with Jim Broadbent and Billy Howle dividing Tony and a younger self, while Charlotte Rampling and Freya Mavor share Veronica.
Earlier this week, Monrowe caught up with Freya Mavor by phone.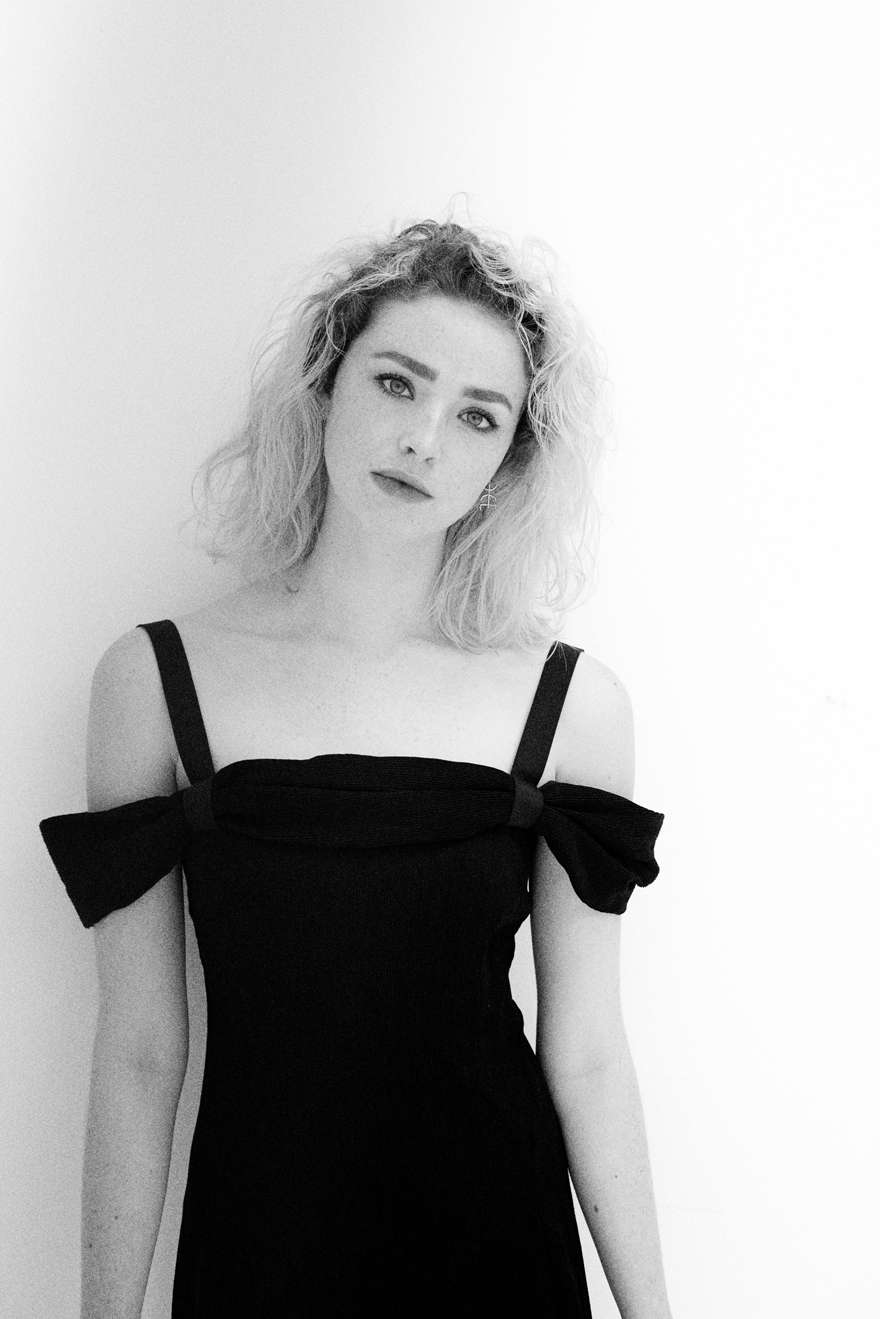 DRESS; REJINA PYO
Guy Lesser: So, who came first—Batra or Barnes?
Freya Mavor: I'd seen "Lunchbox" about a year and a half before auditioning for this film, and I loved it. Ritesh has such a brilliant sense of pace. And especially as an actor, you really get the sense that his actors were given the time and freedom to do their thing—that nothing was rushed or forced—unlike British film sets where everyone's running around, and you're used to, "You've got ten minutes to film this."
GL: Have you really read "The Sense of an Ending" 7-8 times?
FM: Once I got the role, I began obsessively rereading the book again and again and again. I'd read it a year or two before reading the script, but it's one of those books because of the nature of the story, and the fact there are so many twists and turns, and because it leaves so many questions unanswered, there's so much you rediscover when you reread it.
Obviously, the character that I play is only really seen through the lens of the protagonist. And Tony is only guessing what her story might be. She's never a character in her own right—she's only imagined as a fantasy seen through Tony's eyes, reminiscing about how she was, or what sort of woman he wishes her to be in the present. So, I felt the book was really helpful for me to build up a back story, an essence, and there are clues in the book about what sort of person she was, and what sort of life she'd led.
GL: Did you discuss Veronica with Charlotte Rampling?
FM: We exchanged emails what we thought about Veronica. But the thing is, I'm playing her when she's in her late teens, and Charlotte's playing her at a much later stage of life. And even if it's the same character, those two people are very different and have been through very different things. So, we could discuss her, but it was also up to each of us to create who she was at that period of her life.
GL: When did you first suspect you might have thespian tendencies?
FM: I grew up in Edinburgh—which is a big theater city—going to the Fringe every summer, seeing lots of plays and performance art, so I was exposed to it from a very young age. My Mum always says that when we'd go to shows that I'd say, "What do you mean we have to sit through the show and watch people doing it— why aren't we up there, doing it with them?"
GL: I read an interview of yours a couple of days ago that praised you for knowing exactly what kind of actor you want to be. But it didn't actually say what kind that is.
FM: It's such a broad question. . . . It's funny having done this for seven and bit years now—I've had a whole bag of experiences, which is interesting. I think it informs you what kind of working environment you want to be in, what kind of things you're willing to put up with, and what kinds of things you're not willing to put up with.
I think I'd like to be someone who has a career that's diverse, exciting, real, and raw. Someone seen taking big risks, unafraid to be seen in an unflattering light. What really interests me are actors who can dance between different projects, film and theater, independent films and studio films. People like Tilda Swinton, or Charlotte, or Annettte Bening—who do stories that are really worthy, who are daring, and willing to try things.
And as I advance in my career, I'd really like to write more. I write poetry, and I'm doing projects with friends at the moment, but I'd love to get into directing, and I'd love to set up a theater company. This sounds like I just want to do everything, but in many ways I do. I'd like to see more women producers and directors and writers, and I'd like to be part of that next generation of women who are telling stories themselves, and taking things into their own hands.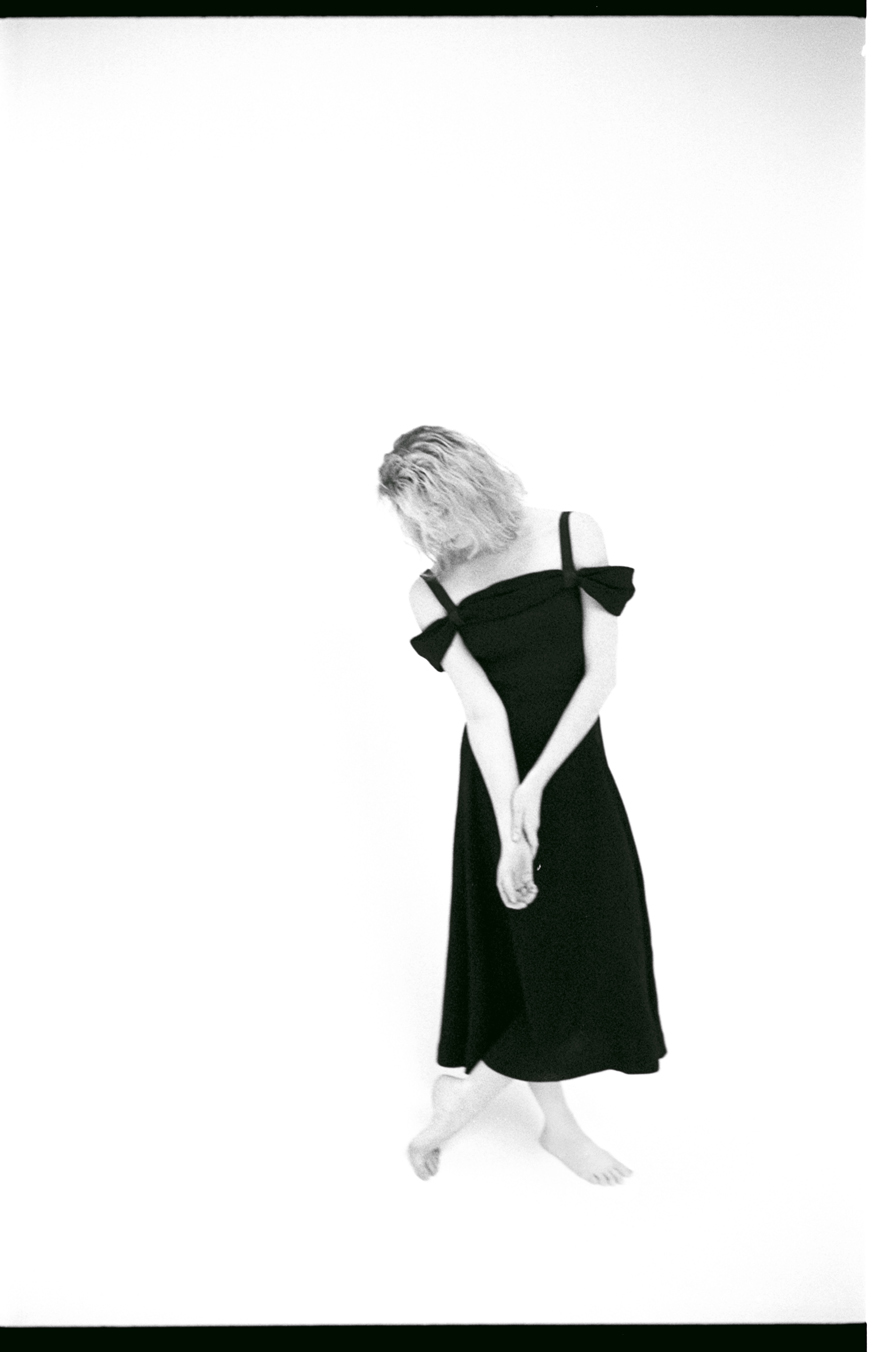 GL: I'm rooting for that generation to flourish too. Dare I tell you that I was a fan of "Skins," and its excruciating, brutally accurate, almost pitch-perfect portrayal of adolescence?
FM: My first job. . . . The Americans actually tried to–
GL: I know. . . SUCH a terrible idea.
FM: Sort of like non-alcoholic beer.

DRESS; JOSHUA MILLARD. TRENCHCOAT; SANDRO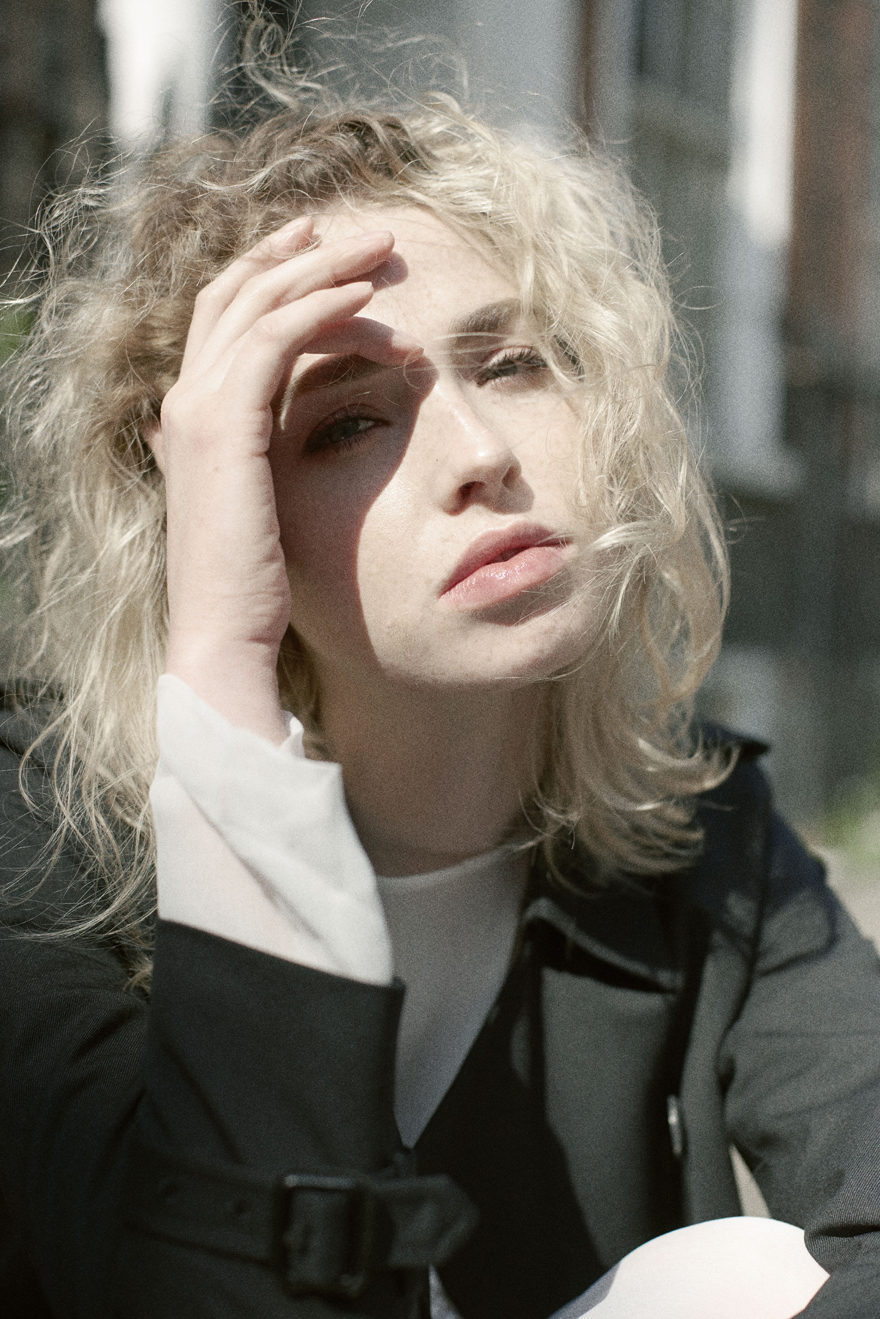 GL: As I recall, Mini McGuinness—the Alpha female leader of the in-girl clique, whom you played so very convincingly for 18 episodes—had what might be termed a "Quadrinity": "Shopping, Footwear, Sushi, and Sex." Is this yours, too?
FM: No. It's not. . . . No. No.–[Laughing]. I like that, though.
GL: So, reading between the lines, as it were, I take it you're more of an avid bookworm?
FM: I am. I'm a massive geek—I love reading. So yes, I kind of look to books to do my own university course because I didn't go to university. At some point in life I still want to go, because I really enjoy studying, but I think I might do that when i'm in my fifties or sixties–like my Mum's doing—
GL: Is she?
FM: Yes—she's studying philosophy. And she's absolutely loving it. So that's something I definitely aspire to, and respect a lot in her.
GL: And your parents are good with your choosing an acting career?
FM: My mother was an opera singer for about fifteen years but stopped when I was very very young. And I come mainly on my father's side from people involved in writing—though for me, this was my Dad locked in a room, going slightly mental for eight or nine hours a day, and being very frustrated. So, I certainly don't think my desire to act came from seeing my father write.
But they've always been supportive about my wanting to do something creative, though they've never been intrigued or impressed because they know how weird and hard the crazy creative world is. How topsy turvy it can be. How you get long periods that are frustrating, and stints where things work out, and you can't really place why it's working or why it's not. Definitely not a job you do if you want stability. But they're very grounded about it, and they keep me very grounded. And very realistic about the world.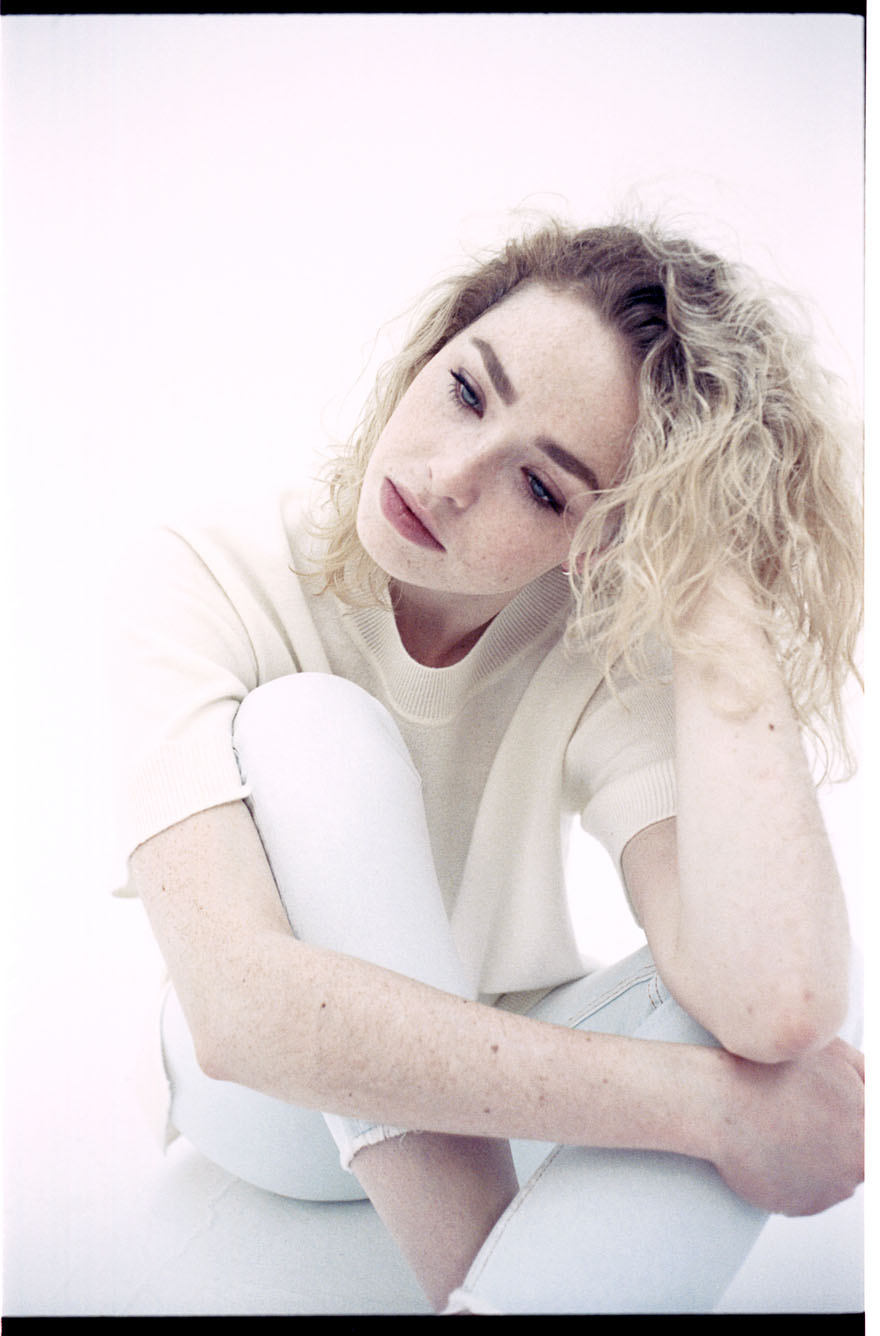 TOP; SANDRO. JEANS; MAJE.
TOP; MAJE
Freya Mavor: Talent That's More Than "Skins" Deep | TEAM CREDITS
Photography / Benjamin Tietge
Stylist / Alexandra Winston
Hair Stylist / Ditte Lund Lassen using Redken
Makeup Artist / Yuko Fredriksson
Featuring / Freya Mavor @ Premier PR