You may already know Yael Grobglas as Petra Solano. On CW's hit telenovela parody, Jane the Virgin, she is the conniving ex-wife of the main character's love interest — a complicated character (with an evil twin, by the way) that grows on the viewer by simultaneously tugging at their heartstrings and testing their patience. In the short time I spoke with Grobglas, it took only seconds to be magnetically drawn to the actress behind TV's most well-intentioned villain. She is as eloquent, dynamic, and as focused as she is good-humored and easygoing. While she may work in the world of big drama and make believe on Jane the Virgin and (now) Supergirl, she is as gracious as they come. 
Sullivan Whitely: Did you ever think Jane the Virgin would be at the point that it is now? The show has got 100% on Rotten Tomatoes. It's fan base is incredibly loyal and devoted…. Just speaking for myself, I tune in every week.
Yael Grobglas: No! I mean, as an actor, we've all been out of work. We've all been on things that didn't move forward, and we've all had our hopes smashed. I think sometimes you're afraid to even think something is going to go well. There are also so many great things that get made and don't move forward because of all kinds reasons — not because they are not good…. You never know if critics are going to agree, or if you're going to have a fan base. I think everything came together so perfectly on this show—I'm knocking on wood right now. It's been a dream come true for an actor….
SW: Where did you grow up?
YG: I was born in Paris. I lived there until I was about 3 years old. My parents wanted to raise me in Israel, so we moved over there. I was in Israel until 3 years ago, when Jane the Virgin pilot got picked up. Then I had about two weeks to pack my stuff and move to LA. I go back whenever we have a hiatus. My parents are there, my cat is there….
Jumpsuit by Alexander Wang 
SW: The big three!
YG: Exactly, the big three!
SW: What's a normal day like on the set of Jane the Virgin?
YG: If you ever get the chance to come to set, you'll see what I mean. You'll love it. Everyone is just smiling and happy and having a fun time. We enjoy ourselves; we sing between takes. There's been a lot of Hamilton, there's been some Moana.
SW: Well, there's a video of you rapping to Hamilton that went viral…
YG: Oh yes! It was a challenge — the best challenge ever [referring to the #Ham4all challenge]. Like, you want me to sing for immigrants, me being an immigrant myself?! No problem! And doing Hamilton? I felt like I'd been preparing my whole life for that! I had to will myself not to do the entire soundtrack….
SW: Besides Hamilton and Jane the Virgin, CW is working on Season 3 of Supergirl, and you are going to be on it! Can you talk a little bit about your role as the villainous superhero, Psi?
YG: I can't say much yet, but I can definitely confirm that I'm going to be on it and it's going to be amazing. Psi uses her physic superpowers to influence people's minds… It's something I've never done before so I'm very excited.
SW: So what's it like playing everyone's favorite "villain," Petra Solano, on Jane the Virgin and now playing Psi on Supergirl, who's a real evil-mastermind?
YG: Well, what's great is that "villain" is such a big term. It can mean all kinds of different things. Obviously, Psi is very different from Petra Solano who is just trying to be the hero of her own story and survive.
SW: Especially on Jane the Virgin, as the show develops, the viewer begins to see each character and their actions as nuanced and complex.
YG: It's been an incredible process. In the beginning, she wasn't a very well liked character, which was fun for me…. She's developed so much over the past three seasons.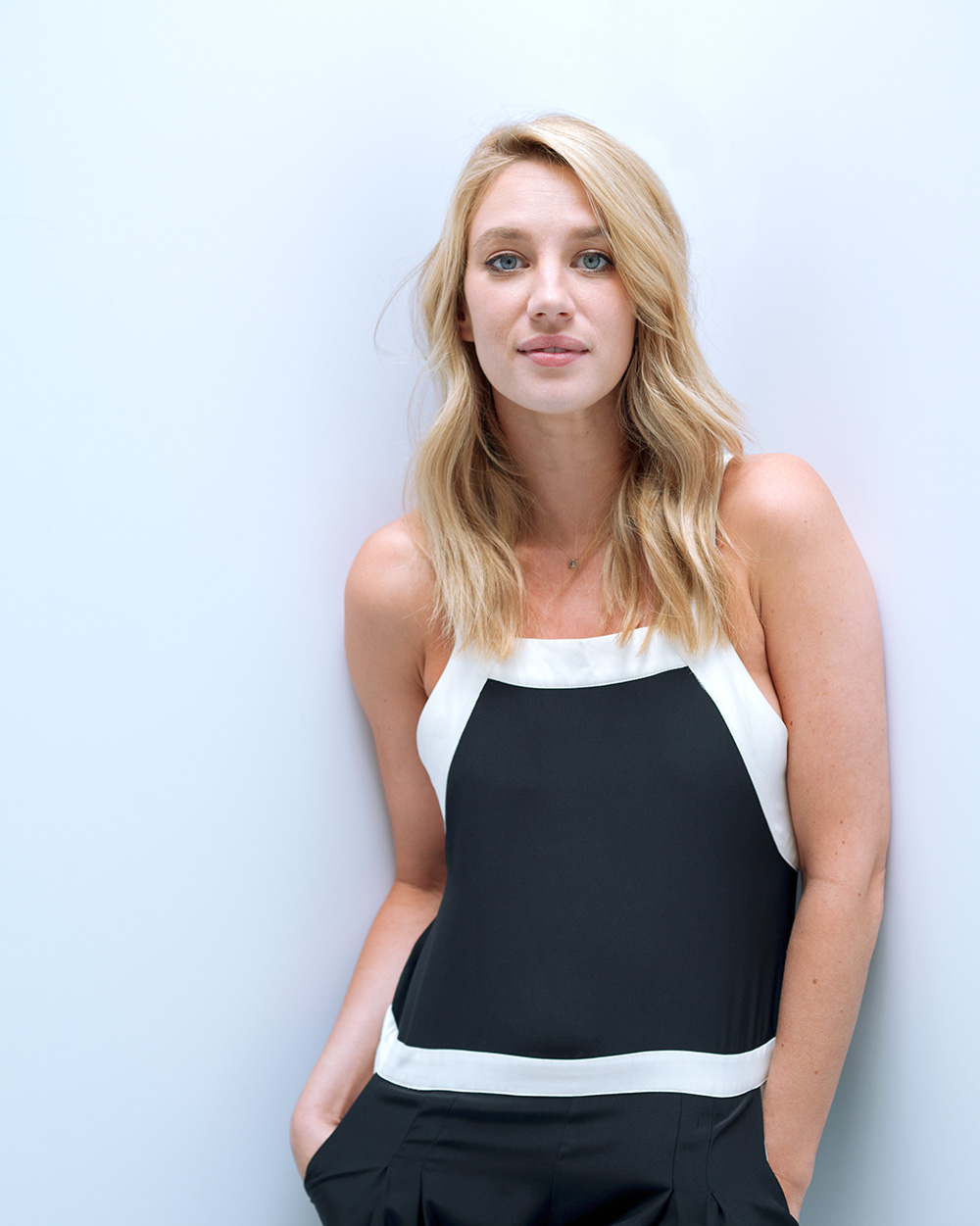 Silk jumpsuit by Tibi necklace Yael's own
SW: Have you ever been really frustrated with Petra? Or have a favorite moment with her?
YG: It's funny, because I've been playing Petra for over three years now, so she's kind of become a friend in a weird way. She's not me; she doesn't make the same decisions I would make. I certainly don't agree with a lot of the things she does, but I admire her and I love her. I get very proud of Petra in moments. She started off on the show as kind of a trophy wife—she didn't trust her intelligence; she didn't trust her ability; she was very much counting on her husband's money. When she took over part of the Marbella and became this fantastic business-woman, she didn't need anyone. She stood up for herself and found this ability to lead.
Another moment I was really proud of her for was when she worked through her postpartum depression. She had that moment when she believed she could raise her children after being terrified for so long, and that was an incredible thing to play. I had done some research about postpartum depression. I'm not a mother myself yet, but to see how many people that affects and how common it is and how many varying degrees of it exist…it was incredible. The reactions I got after it were really great. People wrote to me on Twitter that they were moved to see that, and it really made my year.
SW: Does that pride carry over into how you feel about your own work?
YG: I don't know. It's not something I sit around and think about. I really enjoy the challenge of what I do, [playing two characters]. There was a big learning curve, for me and for the crew, when we started doing the two characters of Petra and Anezka…. I didn't realize, how difficult it would be to play two characters before I actually had to do it.
Coming to set, I have to be so well-prepared. Usually, you know the set, the cast, you can play off your lines together, and you can react to someone who is acting opposite to you…. But then you get to a scene where you don't have anyone to act off of but yourself, and you're not even there — you have nothing to react to. You have to know exactly what you are going to do as the other character, so that you can plan your reactions ahead of time. Sometimes, there's an entire week apart between doing those two angles, so not only do you have to remember what you've done with one character, but you have to prepare ahead of time for what you're going to do with the other one! Did I touch her arm? Does she leap backwards? You do the prep work for two actors.
SW: Were you familiar with telenovelas by the time you were cast on Jane the Virgin?
YG: Actually, people LOVE telenovelas in Israel! That's why, when we made Jane the Virgin and the pilot came out, I was telling everyone that it has to sell in Israel. And it has! It's done well, it's right up their alley.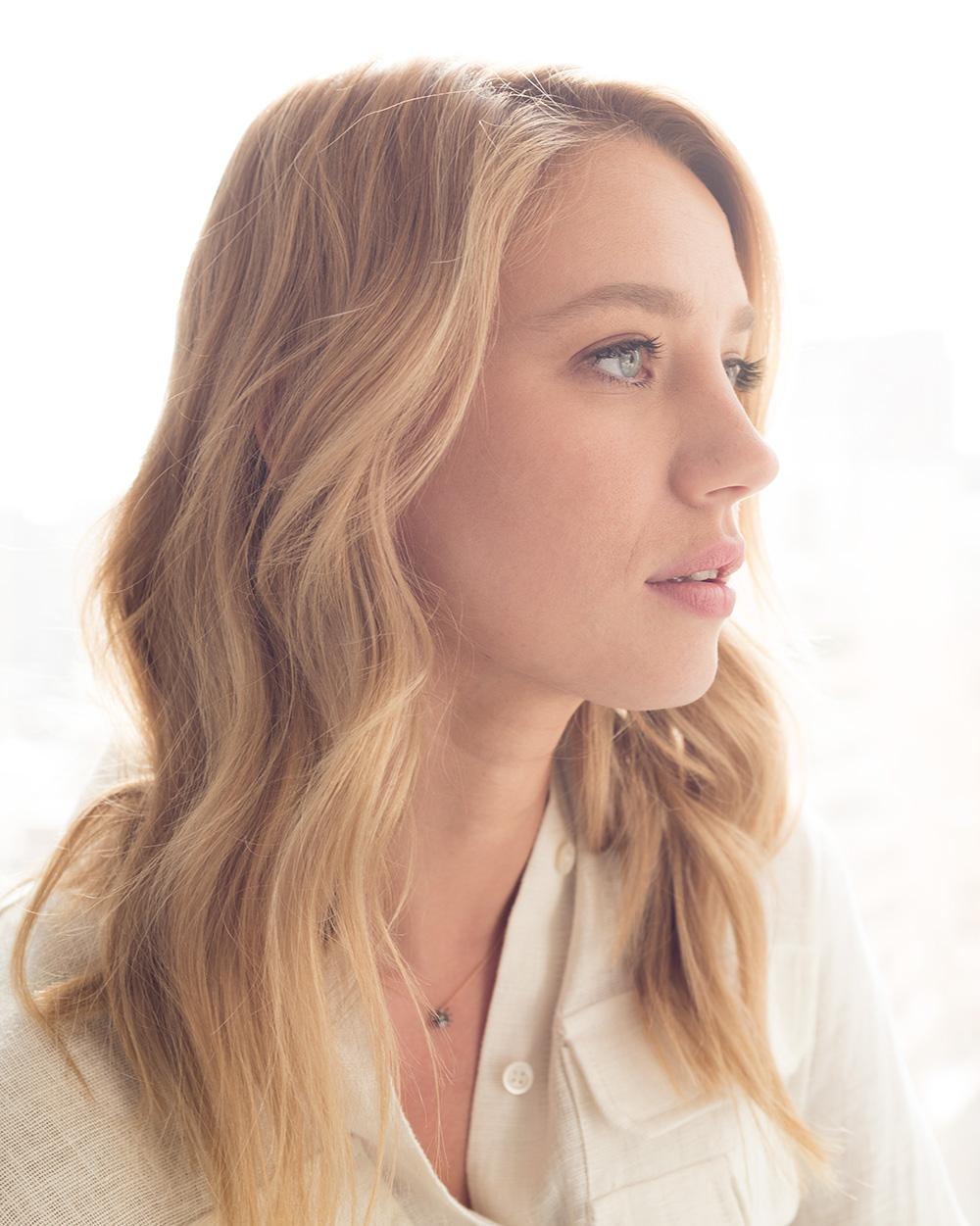 Linen blend button down dress by Billy Reid
Yael Grobglas | Team Credits

Photography: Christian Witkin 
Style: Stacey Cunningham 
Hair: Josue Perez
Makeup:  Min Min Ma
Featuring: Yael Grobglas
Many thanks to 30th Street Studios