MONROWE sat down with the elusive man behind one of Milan's most exclusive brands, Dusan. Here, designer Dusan Paunovic shares his thoughts and philosophies on fabric (so important), big fashion (don't do it), vacations (hates them), and more.
Christian Stroble: I heard that when you were in Serbia growing up you were inspired by the country's shapes, textiles, and colors.
Dusan Paunovic: No no. This is my process, you know? It is more a philosophical process, taking everything that is important from a place and coming back with something simple, timeless. So you start with something, then you simplify.
CS: So you are minimizing and trying to find the purity.
DP: Yes, exactly.
CS: Where did you first find your love for art and design? Where were you?
DP: I was in Milan when I started. I always start from the fabric; I choose the fabric and then the fabrics inspire me. That is really important in this type of work. You always start with the fabrics and from the fabrics comes volume.
CS: So you would say that the fabric speaks to you?
DP: Yes. I always do enormous research on fabrics — from Italian factories to Japanese factories. It is so hard to find interesting and high-quality fabrics on the market today because everyone is now trying to minimize costs.
So many of the fabrics I reproduce from the factory archives, because, trust me, it is very very difficult to find high quality fabrics.
CS: Where is your favorite place to produce?
DP: It's always in Italy. My product is truly made in Italy. Sometimes some of the fabrics, especially cotton, are from Japan. But the best factories are always in Italy — for silk, cashmere and linen. I work a lot with linen.
CS: Who would you say was your first mentor that pushed you to do your own line?
DP: I am a very independent person, and I really don't like to work for someone else, so that was what pushed me. That is very important I think when you are a designer.  When you have ideas, nobody has to inspire you.
CS: Are there any special places where you just sit down by yourself for inspiration to come?
DP: In my showroom.
CS: Oh yes, it is very beautiful, I have seen it online.
DP: Yes, so I sit there. If you come to Milan you can come by and see it.
CS: And you designed everything [in the showroom] I assume?
DP: Yes, not the furniture. The furniture is made by an Italian designer that I really love from the 50's and 60's. It is called Luigi Caccia Dominioni, which is really typical Milanese design from that period that is very simple but very beautiful. That is my preferences really, design from the 50's and 60's — when Italian design was born, actually.
CS: When did you move to Milan?
DP: I moved to Milan in '99. It was love on the first view.
CS: What do you think about the market in the U.S? Do you think it is growing market?
DP: There are a lot of new stores opening, and I think it is actually a busy market. There is something happening again. For many years, you know, with the economic crisis in the United States, there were no new stores. But in the last three years many new, interesting stores have opened.
Very unique speciality stores, very high-end speciality stores. Last week, I visited A'maree"s in Newport beach. That is really one of the most beautiful stores. They carry just niche, very small designers. They have a huge space.
CS:  What would you say has kept you going all these years?
DP: You need to decide what you want to do. I decided to be small. I never wanted investors, I never wanted to have partners in the business. Everything is done and owned by myself. For several years it was very difficult but we survived. You need to make many choices in life. You cannot be everything.
CS: Would you see yourself doing anything else than design?
DP: No, this is what I want and that's it.
CS: You can tell by the collection.
DP: I am very focused, I wanted do to this and that is it. You like it or you don't like it.

CS:You don't always work within the fashion calendar.
DP: No, we are showing just by request. Very private. We are not in the calendars, though we are selling during fashion week with our clients by appointment and for journalists if they want. It is very custom. It is like in the old times.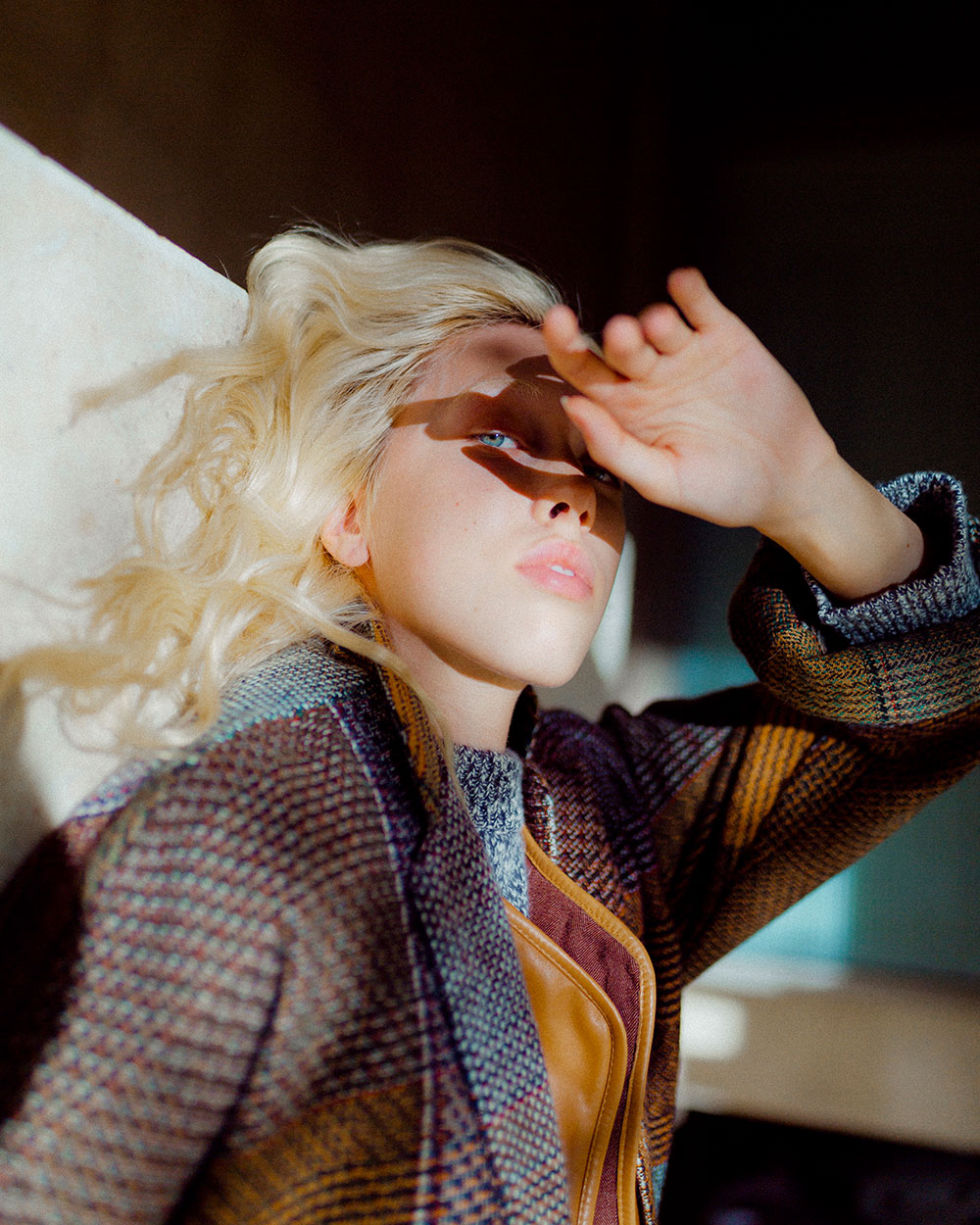 CS: When you have time off, where do you go to just relax?
DP: I never relax, why should I?
CS: So you are always working?
DP: Yes, I am always working. I don't like holidays. They are boring.
CS: Where can I find your work in New York?
DP: In New York it is in La Garçonne in Tribeca, then it is in Maryam Nassir Zadeh in Lower East Side, and Totokaelo in SoHO. Just those three stores.

CS: Do you have anything to leave with me or that you want to tell people?
DP: No, I have said enough my dear. I always tell people or some young kid who wants to [do design], don't start. It is not the time. Don't dream, don't start. This business is over.
I need to be honest.

Dusan Paunovic  | TEAM CREDITS 
Photographer: Edgar Berg w/ Klein photographen
Stylist: Christian Stroble w/ Walter Schupfer Management
Hair: Rimi Ura w/ Walter Schupfer Management
Makeup: Maria Olsson w/ Vanessa
Assistant: Jeanne Chauveau
Model: Tyg Davison @ MP Paris