In 1966, artist James Turrell began experimenting with light as material, creating permeable sculptures using carefully arranged LED bulbs. In that moment, joining the ranks of California's Light and Space movement, he helped lay the foundations for installation artwork and what it would be for years to come. Marked by immersive schemes cast in lush color, Turrell's art continues to defy genre while questioning the confines of temporal (and material) experience. His ephemeral works exist somewhere between installation, live performance art, architectural design, and ambient sculpture.
Drawing from this conceptual foundation of presence as well as "Turrell-ian" aesthetics, New York City Ballet's 2017 campaign asks a pertinent question: what is performance? Rather than providing a literal answer, director Bon Duke takes us on a synesthetic journey of the senses, examining the act of dance as a unique intersection of experience between audience member and performer. Distilling the company's incredible repertory into 1 minute and 30 seconds, the season's promo film feels a bit like time travel. Bathed in hyper-saturated oranges, greens, purples, and blues, New York City Ballet's dancers careen across Duke's intentionally minimalist set. It is a performance enhanced by the cinematic art form but imbued with an unspoken message. There is more. There is always more. But you can only experience it here, in person, and on the stage.
Much like New York City Ballet's repertoire, Turrell's art will never fully translate to the digital world. You can look at pictures, and the pictures will be beautiful, but there is more. There is always more. That's part of the beauty and allure.
Turrell's most famous work is still in progress; Roden Crater is a massive sculptural and architectural undertaking — a land-art project in the Arizona desert, which transforms the interior of an ancient volcanic cone into a naked-eye observatory. At various times of year, the structure aligns to specific celestial objects in the night sky. Like dance, this "performance" relies on light, timing, and intentional architecture to come to fruition. A strange form of theatre, Roden Crater is as much a tool for observing as it is a temple to observance.
Light and dance share many aspects beyond the stage and beyond Turrell. Both are temporal forms; they can only occur in real time. Both possess the quality of being simultaneously material and immaterial— an action that is also a kind of object. (Light, after all, is both a photon and a wave.) In performance, light and dance meld as a singular experience which cannot exist as anything other than in the current moment. It is an art form that inherently questions what it means to look (perception) and the all too human limitations of that experience.
         Sterling Hyltin
Zachary Catazaro "Serenade"
  Jenelle Manzi & Gretchen Smith

image 1 Andrew Veyette & Gretchen Smith
image 2 Amar Ramasar & Ashley Laracey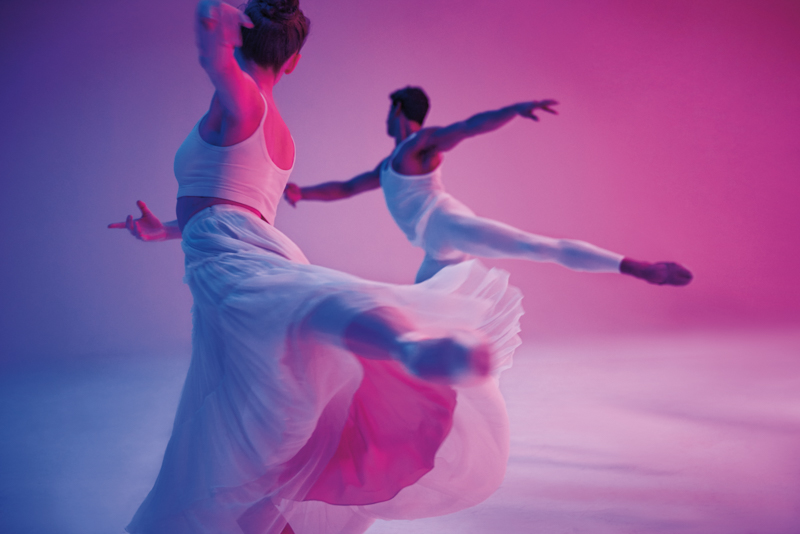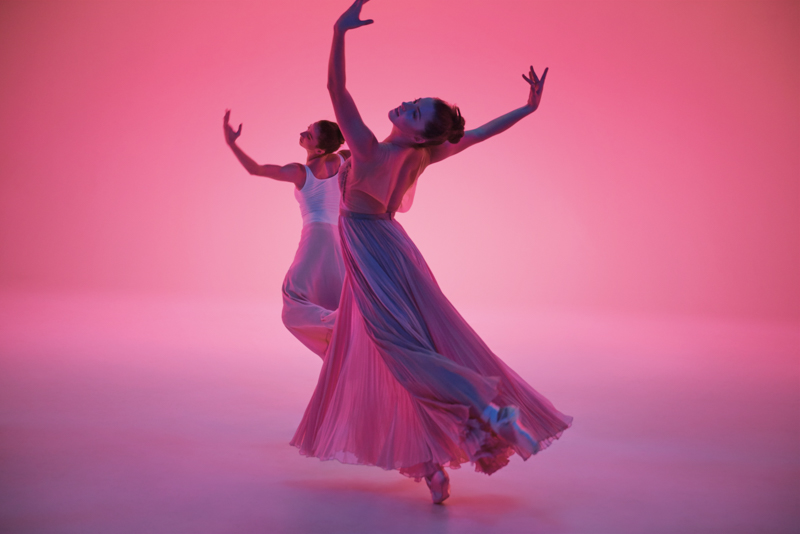 Gretchen Smith & Indiana Woodward
 ''Everywhere you go"

Harrison Ball
Escape, Explore, Embrace: Light and Synesthesia at NYCB | Team credits
Photographer & Director: Bon Duke @ Art + Commerce
Art Director: Ricky Kim
Cinematographer: Jessica Lee Gagne
Executive Producer: Simon Malivindi @ Redhook Labs
Producer: Wei-Li Wang
Music: Valgeir Sigurðsson
Set Designer: Colin Donahue
Stylist: Clare Byrne @ Total Management
Hair stylist: Joey George @ Management Artists
Makeup:  Morgane Martini @ The Wall Group
Story: Charlotte Anderson
The New York City Ballet:
Sara Adams
Daniel Applebaum
Harrison Ball
Olivia Boisson
Zachary Catazaro
Harrison Coll
Joaquin De Luz
Gonzalo Garcia
Emilie Gerrity
Ashley Hod
Anthony Huxley
Sterling Hyltin
Emily Kikta
Ashley Laracey
Lauren Lovette
Olivia Mackinnon
Meagan Mann
Jenelle Manzi
Tiler Peck
Brittany Pollack
Amar Ramasar
Gretchen Smith
Andrew Veyette
Sebastian Villarini-Velez
Indiana Woodward

Special Thanks – Redhook Labs