The band Fieh has released only two songs to date, "Glu" and "25," but in those few minutes of music have proven that they're a commanding, funky ensemble. Helmed by Sofie Tollefsbøl (her nickname is Fieh), the eight-piece group blends the genres that have inspired them—namely jazz, hip-hop, neo soul, and bossa nova—with playful flourishes and the repeat-friendly force of a great pop song. It's worth noting that even though the group bears Tollefsbøl's moniker, when its members—Ola Øverby, Andreas Rukan, Edvard Synnes, Jørgen Kasbo, Øvreås Røed, Solveig Wang, and Thea Arnesdotter Lien—take the stage, it's in the spirit of true collaboration. One musician's instrumental solo is met with the others' jubilation, and their buoyant energy creates a feedback loop that draws the audience into the fun.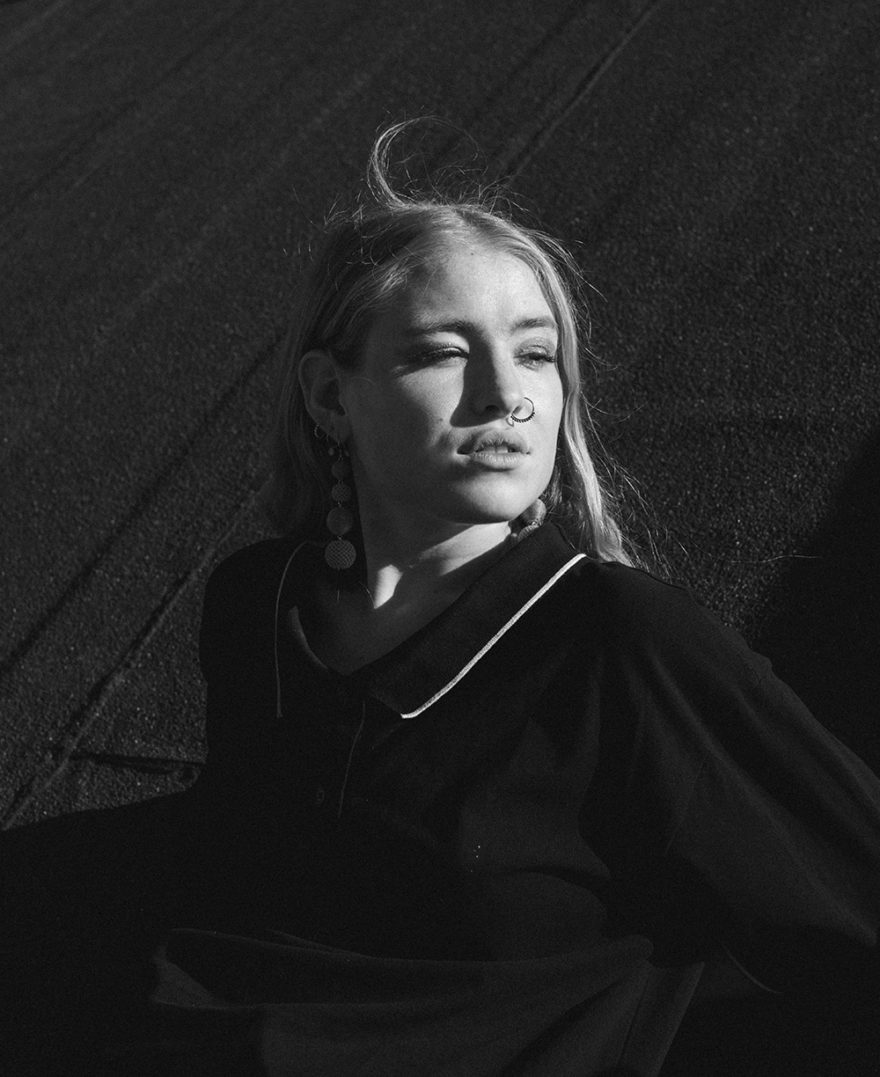 We sat down with Tollefsbøl—who is based in Oslo, Norway—over the summer. The 23-year-old told us about her musical roots and what's next for Fieh.
On her hometown: Eina, Norway is a quite tiny place, with something like 1,000 inhabitants. It's a very peaceful place, which is something about Eina I appreciate even more now that I live in Oslo. Growing up there was good. I used to do a lot of sports, especially soccer/football—I spent a great amount of time practicing and playing football. I had piano classes once a week, which I think was what got me into playing music in the first place. I played classical piano and I really loved it.
Quite a few musicians a little older than me actually live around that area, but when I was younger, my brother and a few guys that played the guitar were the only people I knew that played music. It was really good growing up in a small place, but I often felt like "the weirdo" among my friends, so when I started studying music in a school that was a bit larger when I was in grade 11—and met some other weirdos—that was good for me.
On their influences: In the beginning it was like, "We just want to be D'Angelo." [laughs] We were super inspired by D'Angelo, J Dilla, Questlove, The Roots, all of those things, which we still are, we still love that. Erykah Badu was like, "Wow." When I started singing, I thought, "I just want to be Erykah Badu." That was what we initially started listening to, and maybe tried to reproduce somehow—in the beginning, we tried to make that sound—but after a while it's become important to us to get inspiration from all kinds of genres.
We are all big jazz fans—we study jazz, that's our course [at Norges Musikkhøgskol, our school]—so we all love jazz obviously. And hip-hop, of course. We are huge, huge, huge Kendrick Lamar fans, and we love that Untitled Unmastered [2016] album—those more funky, weirder things that he's done. I love his pure hip-hop too, and Death Grips, but also bossa nova, like João Gilberto. We've started to be aware of the fact that it's probably not a good idea to just reproduce some neo soul that is 20 years old. It's not so interesting if we just try to make a sound that was already made a long time ago, so we're trying to get inspiration from all the stuff that we listen to—rock too. I used to be a huge Arctic Monkeys fan. I listened to a lot of Led Zeppelin, that was my jam earlier. All of those genres have meant a lot to us, and we're trying to incorporate them into the sound.
On shaping their sound: In the way beginning, I just made what I could manage. I had a drum kit in my basement because of my brother, and I was playing these really bad beats. I was recording just one snare and copying and pasting [in GarageBand], and it sounded really homemade. It wasn't one genre; it was just a low-fi thing and way weirder than it is now. Then after a while I was making more hip-hop inspired beats and baselines, but with a mini-keyboard. When we became a band, we created this soul sound together. I think sometimes we're getting there, and sometimes we're not. One goal is to not sound too much like anything that exists, which obviously is extremely hard, because I don't even know what we ideally should sound like myself. We are working toward that goal, at least. I'm happy with the way we have mixed genres on our first album, it turned out better than I could have imagined really, but I'm really looking forward to developing the sound too.
On putting on a show: When I watch videos of Michael Jackson and Prince—those really, really great performers—you always notice that they're actually doing everything in their power to entertain and give people a good show. People have paid to come and see you, and they're using their time to see you play, so I think that you should do everything you possibly can to actually entertain them and give them a great show. And I'm not saying a great show must have matching colors and the choreography [like we do]—jazz musicians also do their best to entertain of course—but I thought that this was a good way to at least try and give people really maximum energy and a maximum show, in addition to the music.
On Norwegian music: There are some newer Norwegian acts [I'm influenced by], like Charlotte Dos Santos, and we have a rapper called Ivan Ave who is also using jazz-based beats, so we have some soul, R&B stuff going on. But I would say we are probably mostly inspired by a lot of the great jazz musicians here, and they are teachers in our school. A lot of them have been really important for us to learn the skills or the actual musicianship, so I think Norwegian jazz musicians have inspired us and helped us in learning the craft. Some of us have also listened a lot to Norwegian jazz from the '70s, like Jon Christensen, but we do listen to more American music probably than we listen to Norwegian music—at least I do.
On turning negatives into positives: The lyrics on "Glu," they're pretty positive, and "25" is pretty positive, but it usually comes out of something not positive. It will usually come out of some bad feelings or a release, trying to write something out of your body. It's weird that it becomes this really dance friendly and happy music and everyone's like, "It's sunny soul," or whatever. But I'm glad that it works like that, because I know how it is to go to a concert and have a really, really great time and forget everything that sucks. If I can give that to people by making songs that sound happy, then I'm glad to do that, even though the songs in the first place were maybe based on something not so positive for me.
On what the future holds: I want to see how far this can go, because when we started it, I wasn't thinking that we would play here [at Øya Festival]; on a Norwegian scale, this is the biggest festival, so I would never have thought that in the beginning. But now that I'm seeing that it's working or people like it, I really want to see how far it can go, and, can I have this as a job? Is that possible? [laughs] So far I really, really, really want it as a job, and I want to travel, because I love to travel. If I can travel and play music together, that would be the perfect mix for me. We'll release an album, which is done, so that will be a goal in itself to finally get it released, and after that, I don't know. Hopefully it will go well.
For more on Fieh, visit her website.
FIEH – NEW NORWEIGAN SOUNDS, PT 1 | TEAM CREDITS
Photographer: Victoria Stevens
Writer: Haley Weiss
Featuring: Fieh