Indira Varma has just arrived in New York. Between all the hair and makeup tests, rehearsals, and table reads that have been packed into her visit from the United Kingdom, she is alert and chipper, directing focus to an unexpected, and mandatory, segment of her trip: sexual harassment and bribery training.

"You know what?" Varma declares. "It was really fascinating. You have to think — how does the law protect people in these situations? Nowadays, who is considered worth protecting is everybody." She emphasizes the word "everybody" as if it were in bold, underlined text. "Actually naming people — people with disabilities, the LGBTQ community, women — everybody is being named now as needing protection. And naming people gives them value. It gives us all value."

Now that's how to open an interview. "And three cheers to Time's Up and #MeToo," Varma exclaims. "Because this is all happening thanks to that."

The actress's energy is boundless and her wit is sharp; in the industry for over 20 years, Varma's resumé boasts an incredible range of roles both onscreen and in the theater, dating back to her first role after graduating from the Royal Academy of Dramatic Arts in Kama Sutra: A Tale of Love (1996) to Game of Thrones (HBO), This Way Up (Hulu) and Carnival Row (Amazon) most recently. She has gracefully and cleverly navigated the glories and frustrating limitations of the entertainment industry, worked with some of the finest in the business, and continues to take on more prominent roles. So why don't more people know her name?

"TV and film are visual mediums. It's a shorthand," Varma muses. "And it's also a director's medium, isn't it? So they want you to look and give off a vibe that is exactly that role and that character." In today's world of remakes, sequels, and books-to-film, translations to the big and small screens can quickly become a breeding ground for type-casting. And not the kind of typecasting in which the artsy actress with glasses always plays the quirky girlfriend and the hunky white guy always plays a brooding agent. Nope. Racial and cultural type-casting.

"It's interesting, if the arts are meant to hold a mirror up to society, should they do so faithfully or progressively? Should they change the way society sees itself? If you're too faithful to a story and it has to be exactly right, like a documentary, then we're not progressing in a way. I felt I was being type-casted, even though I'm mixed race, which I found tricky because I was asked to be 'playing Indian' all the time." Varma's point about the dilemma of being asked to "play Indian" reveals one of the greatest catch twenty-twos of Hollywood: while actors of color have historically been pigeonholed in roles based on their outward identities, they still lose the same roles to white actors who get cast as non-white characters. It's whitewashing, and it's been a complicated pillar of performance art since its inception. As a young actor who had been exposed to a plethora of roles throughout her schooling, Varma remembers being thrown by the casting process of the working world, saying, "It was like, 'Oh, she's got an Indian name, she looks kind of Indian, so that's what she should do.'"

Yet on looking back at her early years, Varma shows genuine compassion and curiosity for the winding road she took. "I think when you're young, you have a semblance of what you want. You have this drive, a motive pulsating inside you that's going, 'I just want to be like Daniel Day-Lewis!'" She laughs, though it's no silly aspiration to want a career like DDL's. "You might aspire to play a certain character, things in a million years you'd never get cast as, but you have this drive that makes you think it's all possible. That is how you should feel as a young person! Like there are no obstacles. And then you enter the profession and there is a glass ceiling. And probably only one percent of actors in this profession get the dream, Cinderella-type experience of hitting the big time. But you know what? I feel like when I look back, I've been so lucky in the winding road of it. Occasionally, I had this feeling like, 'Oh I've gone down the wrong turn.' But I was in it."

From an outsider's standpoint, it is difficult to describe any one of Varma's career moves and turns as "wrong." Rather, they all appear thoughtful and strategic. She shows a shrewd awareness of what's worth taking on, while still managing to remain open to unexpected and seemingly random projects. Her early pivot back to the theater came as a result of not wanting to be typecast and there, "I was doing comedy — I was doing things that people didn't think I could do on screen. You have to prove yourself all the time, and I feel like theater has helped me do that.
Then the more interesting roles come, slowly by slowly."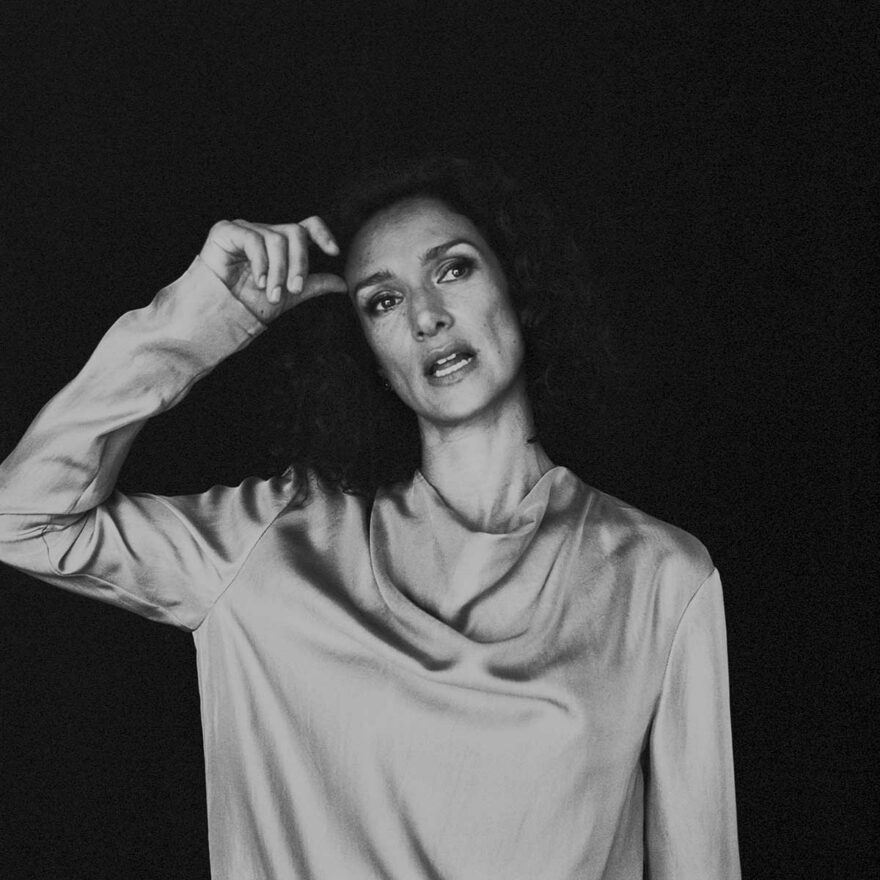 Varma only recently concluded a summer-long run as Liz Essendine in Present Laughter at The Old Vic in London, and it is certainly one of her most interesting theatrical roles to date. Written by Noël Coward and directed by Matthew Warchus, the play centers around star actor Garry Essendine's identity crisis and rising celebrity as he prepares to embark on an overseas tour. This production changed the original character of Joanna into Joe, a man, the love interest opposite Garry. "While we weren't changing the dialogue or anything, we felt more and more that we were finding the heart of the story and the human dilemma of who to love, how to love, celebrity and loneliness. I felt we were serving Noël Coward better, who was a gay man writing under censorship at the time because it was illegal to be gay. As soon as we changed Joanna to Joe, my God, it felt like a modern play. It felt so right."

Throughout her career, Varma has always looked for pieces like Present Laughter with a good story and good dialogue but mainly, "I try not to repeat myself. Because the truth is, the only power you have as an actor is to say no. And you can't always say no." Aptly referring to herself as a "yes person," Varma had appeared in countless smaller roles in theater, television and film before getting cast as a regular in bigger projects like Game of Thrones, This Way Up and Carnival Row. She stands by the claim she made in an interview with The Guardian that it's much harder to be a good actor with small roles because, "You need to be disciplined. One of my first roles was in Othello and I was playing Bianca. We did it for over a year; it was an amazing production, but I remember I was getting bored because it was a small part. Sam Mendes who directed it would send us notes every now and then. And one day the note he gave me said, 'It's great what you're doing, but you're doing too much." As in, you're showing me too many complex details about the character, you have to just serve the story. I thought that was an absolutely brilliant note and I think of it still, because if you've got a small part, but you're making it overly complex, you're muddying the story. If your part is to come on and serve the cup of tea, just serve the damn cup of tea."

Varma most certainly serves a damn cup of piping hot tea as Charlotte in This Way Up (Channel 4 in the UK, Hulu stateside). The show premiered this August and follows Aine (played by Aisling Bea), an Irish English teacher, as she recovers from a mental breakdown that landed her in treatment. Bea wrote and created the series, and Sharon Horgan of HBO's Divorce produced it. Horgan plays Aine's sister, Shona, who takes up a keen interest in Varma's character, Charlotte. "It's utterly brilliant," declares Varma. "It's incredibly moving and funny and charming. It's a brilliant piece of comedy writing." And it absolutely is. The series does not shy away from its cutting depiction of personal and global existential anxieties, yet manages to balance it all with slapstick humor. For fans of Catastrophe and Fleabag, this is for you.

And while you wait for the newest episodes of This Way Up to be released weekly, all eight episodes of Carnival Row hit Amazon Prime on August 30, 2019. The series stars Orlando Bloom opposite Cara Delevigne and explores questions of immigration and citizenship through mythical creatures, all in steam-punk attire no-less. Varma plays Piety Breakspear the manipulative wife of Absalom Breakspear (played by Jared Harris), trying to protect her family's legacy in this new world. "I love the aesthetic and I love Jared — we have a really fun dynamic and have a riot on set. I like the whole premise of exploring the subjects of immigration and prejudice through a different species completely. It's really fun, but hopefully with something important to say at the heart of it."

So what's next for this brilliantly funny, socially-conscious and driven actress? Quite a bit, but Varma can't say what just yet. For now, with twenty years in the industry under her belt and counting, she's feeling incredibly content and accomplished in the present moment. "I keep coming up with all these ridiculous metaphors, but it's like, you experience this huge storm and then, by God, you get the rainbow at the end of it! And you wouldn't have had the rainbow if it had been a sunny day the whole time." She stops to laugh and sighs, and leaves me with one final question, "I feel like there's a bit of a rainbow inside, you know what I mean?"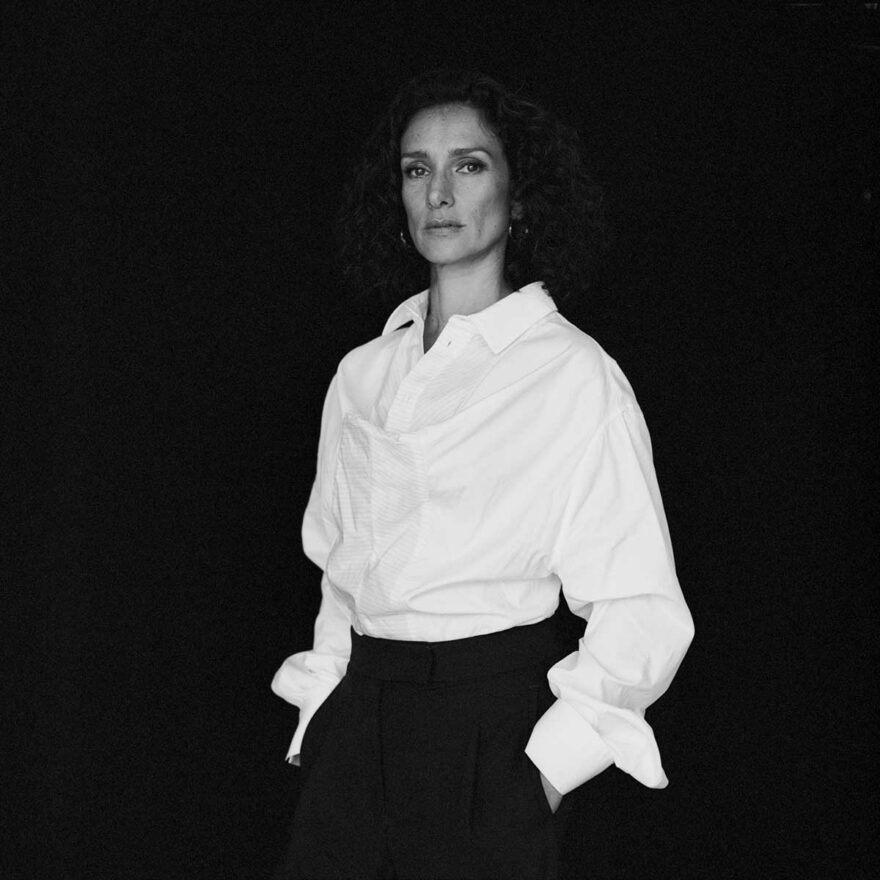 Indira Varma's Winding Road | TEAM CREDITS
Photography / Benjamin Tietge
Story / Sullivan Whitely
Stylist / Julia Lurie
Makeup Artist & Nails / Alexis Day using Nanshy // Essie
Hair Stylist / Declan Sheils using Aveda
Photographic Assistant / Mehran Pakgohar
Video Edit & Grading / Wild Island Films, Ed Duffield