The space between WWI and WWII in Germany was a period of transition, strangeness, and terror. Words and pictures were too precise to capture what was happening, and so it was with the transience of a gesture that choreographer Mary Wigman conveyed a culture on the edge of a nervous breakdown. Her jolting, discomfiting movements — an abject ballet unburdened by codification — explored humanity's relationship with time, with the cosmos, and (perhaps most unsettlingly) with each other.
Following in the footsteps of Stravinsky's Rite of Spring, Wigman's expressionist works luxuriated in the grotesque capabilities of the human form. In her solo performance, "Witch Dance," Wigman contorts herself in a dark ritual, summoning the wicked character of her own body. A surviving clip (filmed in 1926) captures Wigman as she twitches against a black void — seeming to channel the essence of Germany at that moment. The core anxieties stemming from the aftermath of WWI that would, at least in part, lead to the rise of fascism in Europe.
Nearly 50 years later, in a post- McCarthy era United States (in the wake of the deaths of Marilyn Monroe and JFK), writer Frank O'Hara wrote a poem while riding the Staten Island Ferry on his way to a reading. A cinephile with a love for the enduring works of German Expressionism such as The Cabinet of Dr. Caligari, Nosferatu, and Metropolis, O'Hara saw Hollywood as an untenable ecosystem of decay and decadence, not unlike the Weimar Republic. It was beautiful, yes, but also frenzied, unbalanced, and on the precipice of something terrible — like a star that shines brightest before extinguishing. Inspired by a headline he read about a young starlet fainting at a party, he writes in "Lana Turner Has Collapsed!:"
…there is no snow in Hollywood
there is no rain in California
I have been to lots of parties
and acted perfectly disgraceful
but I never actually collapsed
oh Lana Turner we love you get up
Inspired by this feeling of imminent destruction and longing, photographer Sergio Kurhajec channels the poetics of uncertainty with motions straight out of Mary Wigman's repertoire. A game of shadow play emerging from a culture in crisis, the postures evoke the ephemerality of cinema as well as some of its most enduring mythical creatures — melding the rankled movements of modernist dance with the sparse aesthetics of an O'Hara poem. As O'Hara writes cynically in the opening line of "An Image of Leda," "The cinema is cruel / like a miracle." Said another way, seemingly from the other side of that cruelty: "oh Lana Turner we love you get up."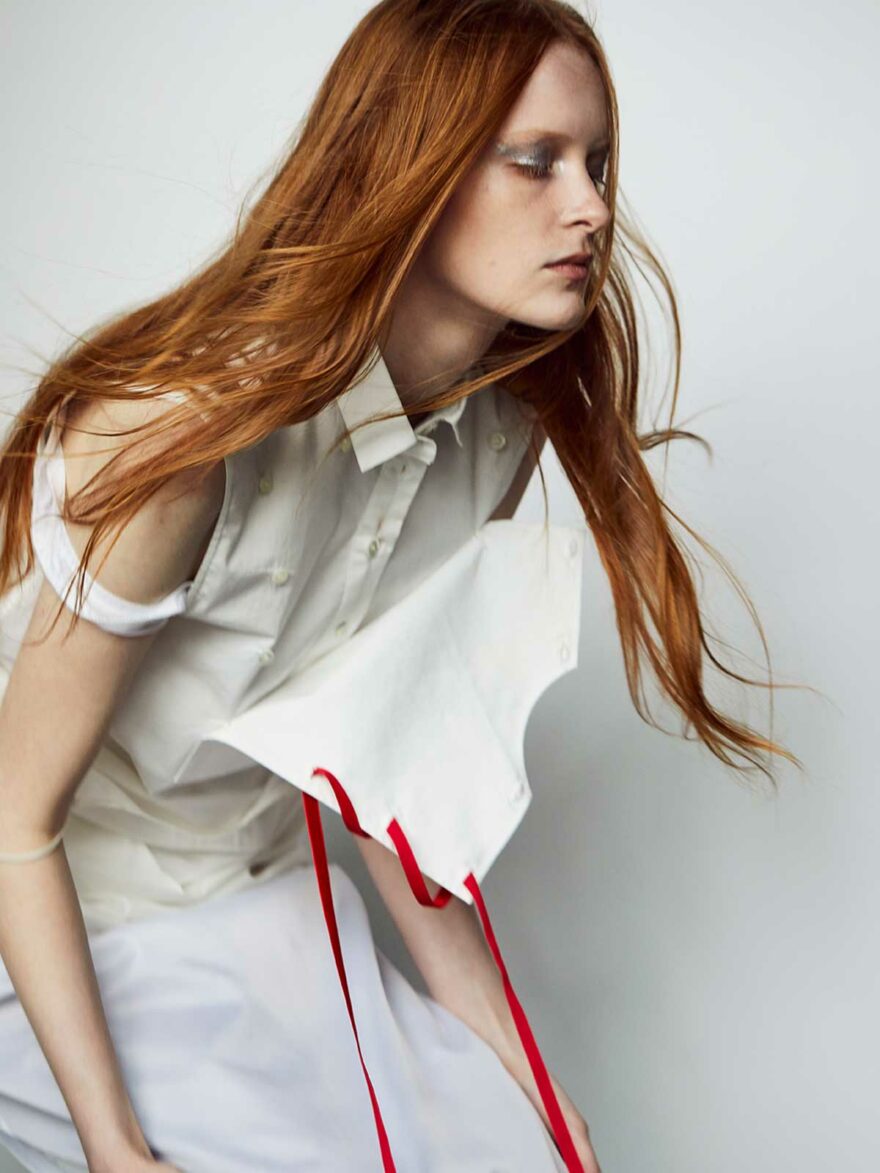 TEAM CREDITS | LANA TURNER HAS COLLAPSED!
Photographed by Sergio Kurhajec
Styling by Mauricio Quezada
Hair by Antonio Diaz
Makeup by Seiya Iibuchi
Model Victoria Schons @ Silent Models NY