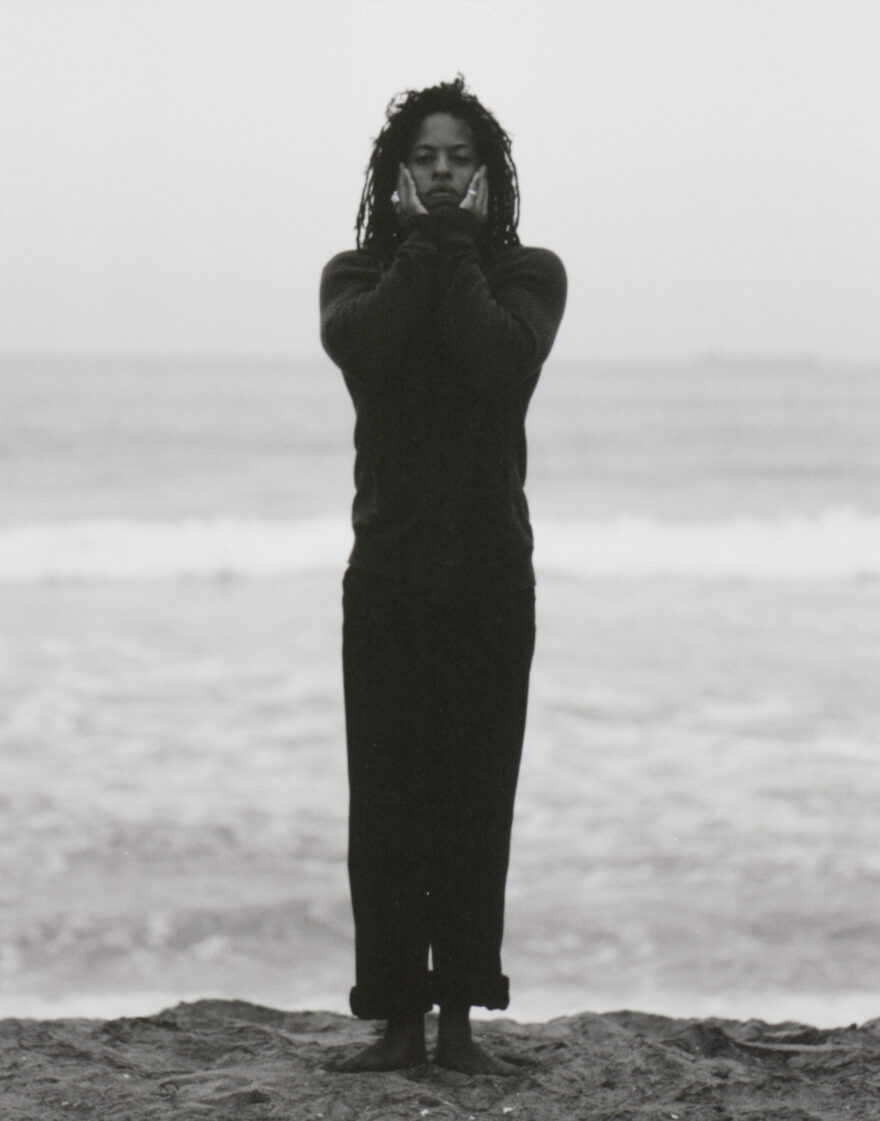 Ever since Ty Hodges broke into Hollywood at the age of 16, he has defied the labels placed on black artists and defined his own success. After landing roles on Disney Channel's Don't Look Under the Bed and Even Stevens, Hodges graduated from the family network into a harsh world of type-casting and tokenization. Frustrated by roles that trivialized black experience, Hodges turned to writing, directing, and acting in his own films. His first feature, Miles from Home (2006), follows a high-schooler, played by Hodges, whose naïve curiosity about the streets embroils him with a group of teenage prostitutes; in later projects, Video Girl (2011) and A Girl Like Grace (2015), two shy, straight-laced women become targets of bullying and manipulation, spiraling into homelessness and drug abuse. As Hodges gradually left on-screen roles for a greater presence behind the camera, his films found purpose in exploring nuanced human experiences that transgress Hollywood type-casting. As for his own labels, he prefers "in progress," or just, "becoming."
Hodges is preparing for the release of his 7th film, under the banner of his new production studio, Lost Ones. He spoke with MONROWE's Maddie Becker about growing up in Disney and breaking out to pursue his own truth.
Maddie: Many of your early roles were on Disney Channel, often as the lone black character. Were you conscious of entering an industry that was very white and where there weren't many people that looked like you?
Ty: It's funny, because I wasn't aware of that until I got older. [Disney] was a very pure experience for me. But now it's coming back. The director of Don't Look Under the Bed did this interview recently, talking about how they had to have this meeting about a kiss scene between my character and the lead, where it was like, "Can we do this?" Originally the character 'Larry Houdini" was written as a white teen male. My amazing agent at the time Doug Murphy convinced casting to see me because he felt an "imaginary friend" could be any race and he felt I could be great in the role. So they ended up letting me audition and I ended up landing the role in the room. I guess if [my character] was white, it would have been easier or there wouldn't have even been a conversation about a kiss. But I was just a kid; I didn't even know. So it didn't keep me from doing my best. It was a blessing for me to be in a position where I was showing up to perform, versus feeling like I was the only black kid… I think if I had understood that, or expressed that, I wouldn't have given the performance I was able to give. It was pure and fun. I never want to feel limited, you know? Not that it's limiting to be black, [but] I think sometimes our point of view can be so focused on race, versus being human. I'm very comfortable in my skin, and I don't have to prove what color I am to anyone.
I will always have a lot of gratitude to Disney Channel for being so progressive in 1999 and giving me the opportunity to play Larry Houdini. To this day, it's one of my most special performances. It's a lovely heartfelt film that I'm so honored to have in my catalogue as an actor.
M: You grew up in a Barbadian and Trinidadian family in Miami. What was it like entering Hollywood from that background?
T: Growing up Caribbean in America, and being black, people don't see you and realize you're from another country, or [that] my mom's not a citizen. It's easy for me to get put into boxes where there's an expectation of who I am because of the color of my skin.
As I got older and started auditioning for roles that were outside of Disney Channel, I realized, 'Oh, I'm playing the same kind of roles, and black masculinity is defined this way in America.' I have an uncle who's a judge, but I'm not seeing those roles. I'm not seeing roles of people who look like me and happen to be excelling at high levels. I'm limited to playing or auditioning for the thug, or the funny guy. There are not a lot of roles that are shaped for people outside of how Hollywood sees them.
That's when I started to realize, holding onto our childhood purity is really difficult. You grow older and you start to be exposed to things that aren't as clear from that child-like lens. When I got into writing and directing, it was because I wanted to create human stories that weren't limited to the color of my skin but expanded on what a human being is — a human being that happens to be a man, that happens to be black, that happens to be all these things.
M: Many of the films you've written and directed, Miles from Home, for example, tell stories about young adults who turn to things like prostitution or drugs when they feel they have no other option. Where does your interest in telling these stories come from? Do you draw from your own experiences to tell them?
T: No, I don't think I was ever a prostitute [laughs]. I grew up in this program called Voices United, which is run by Katie Christie. Growing up in Voices United, I was doing plays about things that I wasn't personally experiencing. However, we were performing for communities that were. I think I've always wanted to connect and relate because I see the human heart in things. Moonlight's writer Tarell McCraney was also apart of the VU family and to me still carries that texture into his writing in Hollywood and on Broadway.
The way Miles from Home came about — it was multiple things. I had a casting director ask me to be more black in an audition, and then I would see these kids hanging out [on Santa Monica Boulevard]. And, of course, me being the kid from Voices United, I wanted to know: "Who are these kids? Why are they outside? What are they doing?" My brother's girlfriend at the time told me they were teenage prostitutes, and one day, I got out of the car and just started talking to them, getting to know them. Mind you, I'm on Disney channel now, but I didn't care about that. I just cared about trying to understand these kids that looked like me, my same age, and this path they're on.
M: How do you go about writing or directing or playing in films where you don't necessarily have the empathy, but you have the compassion and the interest in telling those stories?
T: I'm still asking myself that. Any time I'm in a position or in a space to be free enough to create, I think it's like being a vessel, you know? It's about connecting to the truth of what these people are feeling. And when people are living in their truth, there's a frequency to that, there's a vibration to truth. I think truth is something that we're constantly having to understand about ourselves. When I'm in that moment and I'm present in my truth, I'm not even thinking about the directing and the acting part. I'm thinking about when I was talking to [those] kid[s] [in Santa Monica], and they were telling me how they grew up or how they were raised and why they were in this situation, and owning that. It's me submitting to that and understanding how they got there, versus judging.
M: You've had this amazing journey from being a child actor at Disney to writing, directing, and producing your own films as an adult. What have you learned about yourself, and what you value, throughout that transition?
T: Growing up, I was impacted by movies like Free Willy and Coming to America and Spike Lee's Do the Right Thing. They're films that felt very fearless and honest, and they didn't have an ego attached to them. As an actor, it's so easy to get caught up in ego because everything revolves around you, it seems. Taking a break from acting gave me a different lens, because actors are the last ones to be hired. I realized you can't have ego in making a film. Especially now in the industry, where we don't know where it's going, and we don't know when theaters are going to open up again, there's so much ego that has been taken out of the business and out of projects.
I think my family's a big part of that. When I was growing up on Disney Channel, getting picked up in limos or town cars and going to parties, my parents were still like, you've got to wash dishes, you've got to clean your room, so it was very balanced. I don't want my ego to project onto other people and make them feel less than, or to give myself this illusion of power. I want to be thankful to co-labor with people, where we're intended to do something great that will impact people, versus you need me, this is mine, everyone shut up and listen to me. That's the danger.
M: Your new film, Venus as a Boy, is about falling in love in the world of social media and fabricated realities. Among your roles as writer, director, and producer, you're back in front of the camera. How do you think your creative voice has evolved to get you to this point, and where do you see it going?
T: This is my 7th film, and the fact that probably no one knows I did seven movies is a gift because it's given me practice within storytelling. This is my first lead since my first movie, and so there's a maturity I'm at where I'm confident in my voice. This is also me starting a production company, Lost Ones. [My producer] Gian Franco and I are really crafting our wheelhouse and realizing that our goal is to tell stories, human stories, with people who feel out-casted, or people who feel like it's been hard to walk in their truth. But at the end of the day, the core of my identity is just not stuck in the labels that I'm attached to in this industry, and that's everyday maintenance. I'm still figuring it out, and there's so much for me to do that I haven't done. You've got to get your hands dirty. You've got to get into who you are and who you're becoming.