Joseph Fiennes's heart belonged to the theater ever since the beginning of his career. Claiming his transition into film and television was purely accidental, Fiennes continues to gravitate toward ambitious roles, regardless of medium, that keep him and his audience on their toes. Recently, as the Commander in Hulu's latest original hit, "The Handmaid's Tale," he's struck gold: a role that walks the disturbing line between sort of likable and absolutely terrifying. Fiennes took the time to speak with MONROWE about his character's inner torment, the show's success, and the impact it's had on its viewers, given today's political climate.
ZF: You've done a fair amount of work in both theater and film; do you have a preference between the two?
JF: Well, I did youth theater at the age of 17, and then I worked as a dresser backstage for four years, which I count as part of my training as an actor. Then I embarked on my drama school training, which was three years. I only wanted to do theater, and I didn't even think about film or television. You have much more ownership when your director just goes home and you're there with your fellow colleagues on stage; it's just you, the writing, and the audience.
ZF: Is there a specific character that you've always wanted to play on stage?
JF: I've always wanted to discover something I've never read or known about. That's what I'm looking for because it's so easy to rattle off Shakespearean classical characters. I'm always looking for something to take me by surprise. It's also much more gratifying to do a part where the audience doesn't know what the next line is.
ZF: "Handmaid's Tale" has become an instant hit and is now, with the current political climate, sparking a great deal of conversation. When you first signed on, did you think it would resonate with so many people?
JF: Not in the way it has. I mean we kind of got lucky — if that's the right thing to say — in terms the administration in America and how it is, in many ways, a huge challenge to a lot of people…. I think it's a deeply intelligent book and a startling piece of feminist literature. I knew that this was what we needed to engage and discuss, but I didn't know that it would be so relevant and so frightening.
ZF: How do you feel about activists now drawing from the show, or the book, and dressing in Handmaid garb in order to call attention to various women's issues?
JF: I support them one hundred percent. It's brilliant when art, literature, and television can play such a role in vocalizing unhappiness with the state of governments. The silent protest of the women wearing those red dresses with the white bonnets — I think it's brilliant. It's all about getting attention. It's a fiercely brilliant book in that regard, and, clearly, it struck a cord with people. They feel that it's a discussion that needs to be had.
ZF: Let's talk about your character. Was there anything specific that drew you to the role of the Commander?
JF: There were lots of clues dotted throughout the book. I guess what drew me was the duality of human nature and, in this case, patriarchal rule and hypocrisy — the venality behind authority. He's human; he's not a cardboard cutout, and there's a part of him that wants to do good and wants to take care of Offred, but there's another part that can't help but abuse and overstep his mission and mark. But I love the hypocrisy where authority can say one thing and wear another face.
ZF: As a viewer, I think what makes The Commander so ominous is the fact that you play him in such a soft-spoken manner, so you really never know when to trust him or not. Is that sense of masked evil a characteristic that we're going to continue to see? Was that intentional?
JF: I think certain things are intentional, or they just morph into place and you feel you're just in the right area and zone. You don't need to over-intellectualize it; it's more instinctive. But if you can't trust him, I don't think he can trust himself. I don't think he knows himself. I think he wants to be partly uncle, parent, guardian, but at the same time he's an abuser, and he is a man that is welcomed into a culture of rape for political gains. I think he can understand the abuse involved, but at the same time I think he enjoys the power. I just think he's sort of well-rounded and human, not evil. It's more like it's benign. His evil is really just pathetic, and it's masked in this authority.
ZF: In the last episode we got a bit more insight into that and into his relationship with his wife, Serena Joy. Do you feel like they're genuinely still in love or has their love morphed into just a partnership?
JF: I think he would like to believe that the love is still there and that it's possible to get back because that gives him something to work for and towards. But, I think at the same time, the architecture of Gilead and what it is to be a Commander means that their relationship has been reduced and stunted. I think deep down he knows what a powerful woman she is, or was, and I think there's a sense of shame deep, deep down, but he's closed it off. I don't see much hope for him getting back, but I think he would like to feel there is a love there.
ZF: Has the beauty of how the show is shot taken you by surprise?
JF: Well, I don't watch the monitors but you always get a glimpse, or there's a still photograph that might be hanging up in the makeup trailer, so you get a sense. Obviously, until I'd seen the finished, fully graded piece, I didn't think it was going to be quite so exquisite, but it's a sort of terrible beauty. The narrative is so cruel juxtaposed to this very textured and beautiful cinematography. It's great to see something so beautiful be so unsettling.
ZF: Has acting in this show altered your outlook on men's roles in our current society?
JF: I'm finding myself getting into a lot of arguments or discussions lately…. It's been very influential for me. I feel much more protective of my two daughters; I feel like I've been switched on or woken up to a cause that I didn't feel really belonged to me previously. Now I feel it urgently belongs to me. It's totally switched me on in a big way, and I'm really, really thankful for that.
ZF: Do you feel like "The Handmaid's Tale" is, in fact, cautionary?
JF: Yes, I do. I think there's so much in the show. When we go to the flashbacks, that feels very real and vivid. What I love is that we're seeing so many people be stubborn in the best possible sense and vocal in terms of getting to the streets and marching in protest…. So that gives me great hope that they're carrying that caution for us.
Coated cotton linen trench by Stella McCartney. Grey crewneck pullover by APC. Cotton Trousers by Billy Reid. Vintage newsboy cap by What goes around comes around.
Cotton jacket, Cotton denim long-sleeve shirt by Robert Geller.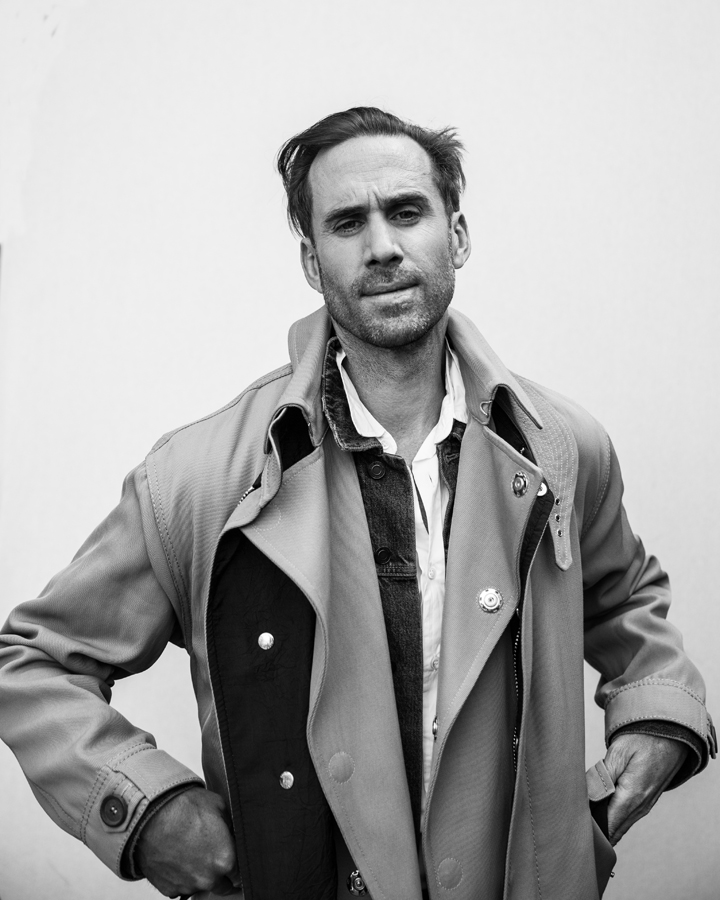 Cotton Twill Overcoat by Giorgio Armani. Denim Jacket by Saint Laurent. White cotton oxford shirt by Maison Margiela.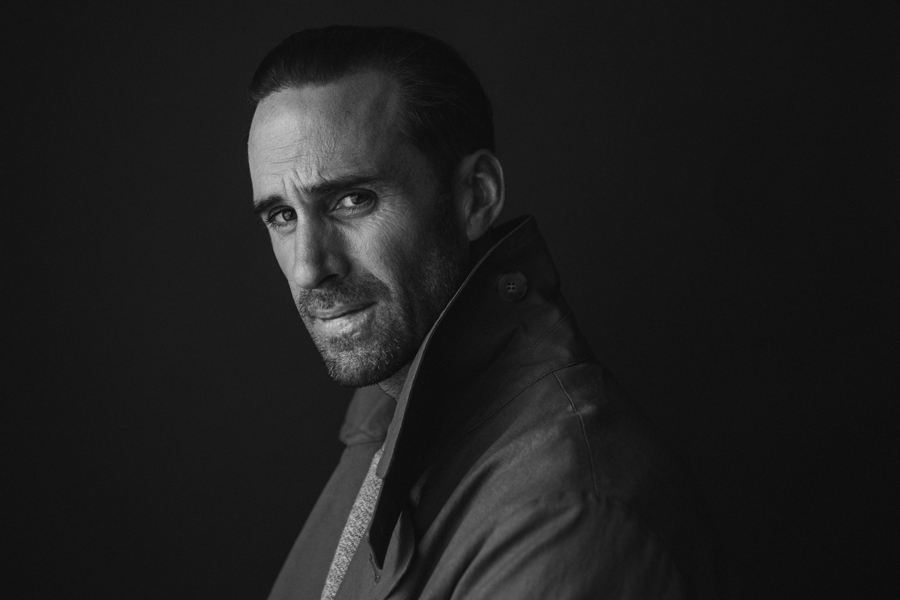 Coated cotton linen trench by Stella McCartney. Grey crewneck pullover by APC.
Coated cotton linen trench by Stella McCartney. Grey crewneck pullover by APC. Cotton Trousers by Billy Reid
Black Leather Moto Jacket by The Cast. Zip up Cashmere sweater by Hermes. Cotton Tee shirt by John Varvatos. Wool striped Trousers by Pringle of Scotland.
Joseph Fiennes' Most Commanding Performance Yet | Team Credits:
Photographer: Josh Wool
Stylist: Christian Stroble
Grooming: Jessi Butterfield
Associate Producer: Kasheem Daniels