In STARZ's new original series, "The White Princess," 24-year-old actress Jodie Comer inhabits a world of corsets, arranged marriages, and monarchies. But Comer doesn't want to stay there forever. She refuses to be categorized and hopes to continue to surprise her audience as she jumps from genre to genre. MONROWE took the time to speak with Comer about her successful television career, her jump to the silver screen, and her hopes for the future.
ZF: You've recently been nominated for a BAFTA for your role in "Thirteen."  What was it like to get in the headspace of a character like Ivy?
JC: I'm always drawn to darker material. I don't know why, but just find it quite fascinating. I think for Ivy, she was such a complex character. In my head, I was like, "Oh God, no matter what performance I do, I'm never ever going to be able to fully imagine what this experience must be like." So I knew it was really going to kind of test me in that way. What I thought was amazing about "Thirteen" was that you never really got the gory details. A lot of it is left to the imagination.
Leather Moto jacket by BLK DNM, Wool Knit pullover by Calvin Luo, Denim two tone Jeans by Closed, Suede pumps by Manolo Blahnik
ZF: Was there any specific method of preparation that you would use before a take to transport yourself into that type of tormented psyche?
JC: I'm quite good at kind of flipping in between the two. Sometimes you just joke around and jump into it, but then other times I just go off and sit on my own and put my headphones in. For each job, I'll have a kind of music that I'm drawn to that I feel relates to the piece or makes me feel like that character would listen to it.
ZF: So what would you say would be Ivy's song?
JC: Do you know what I listened to a lot of? Amy Winehouse. A lot of "Stronger Than Me."
ZF: Jumping to your work now in "The White Princess." It's quite a leap, content-wise, from "Thirteen," so what was it like transitioning from playing a woman like Ivy, who had half of her life stolen from her, to then playing Lizzie, who definitely has her life planned for her but finds her own strength within that?
JC:  It was amazing! That is definitely something that I want to continue to do in my work, to go from one extreme to the next. Well, not extreme — but now I'm really hungry to do something quite modern and gritty; I think it's good to challenge yourself, and keep it fresh, and to surprise people. I never want to be pigeonholed.
ZF: In the first episode of "The White Princess," there's the rape scene where it has the potential to be much more violating, I'd say, than it is. How do you feel that kind of scene sets up the audience's understanding of Lizzie as a character?
JC: It's such a complex scene, and I remember having a conversation with our director and thinking, "I don't understand how this woman could come to love him." …I find it quite emotional to watch but I don't know if that's because I was playing it through her. I think it's also because it's not something that I think I've ever seen on TV. Women are often abused and objectified, and then here is this scene where you think it's going to go one way, and then you're like, hang on a minute, what's happening here? I think it was definitely powerful.
ZF: Critics are starting to hail this series as more of a feminist piece of work than I think anyone expected, what are your thoughts on that?
JC: I mean I think it's getting a lot of that kind of feedback because it's a female-led show, and what makes these women so fascinating to watch is that you see them with all of their flaws, you know? Women who are strong are also very fragile, and that's what's so empowering about being able to play these characters: you're allowed to express all of that. You're not just playing a strong woman who's got her shit together. She's got all of this stuff going on, and she's got all of these problems, and she makes mistakes and she deals with it. She's human. What we don't see an awful lot of in drama and in film is that women are more than these kind-of one-dimensional people. I think maybe that's why the show is getting praise for that because the show explores it all.
Coat with ball-chain trim by Alexander Wang, Hoodie by Alexander Wang, Mesh top by BLK DNM, Leather skirt by Rhie 
ZF: You've recently filmed "England is Mine," which is your first big screen role, correct?
JC: I know!
ZF: How do you feel about this transition from television to film?
JC: Really excited! We filmed "England is Mine" last year and that was a learning experience in itself. I learned that in television you have a lot more time. There's a lot of take after take after take, more rehearsals, then take after take after take. But with a film there was a lot more waiting around, and then you get to set and you've just got to do it. I'd love to do more film. It's definitely something that I'm aiming for within the next coming months, I hope! Fingers crossed!
ZF: What can you tell us about your character, Christine, in "England is Mine"?
JC: She's kind of quite narrow-minded, people don't listen to the music that she likes. She doesn't think before she speaks; so she was just so much fun to play because I had just finished "Thirteen" and another drama in for BBC, which was called "Wellington Place" — about a series of murders that happened in London. It had kind of been a lot of dark stuff, and she was such a breath of fresh air.
ZF: What roles would you say you are drawn to right now?
JC: I'm hungry to do something really present day. I think that's because I want to step away from the corset for a little bit. But it totally depends on the writing and that feeling when you get a good script — the one that makes you think, "I could really give this a go; I resonate with this."
Organic Cotton Trench by Stella McCartney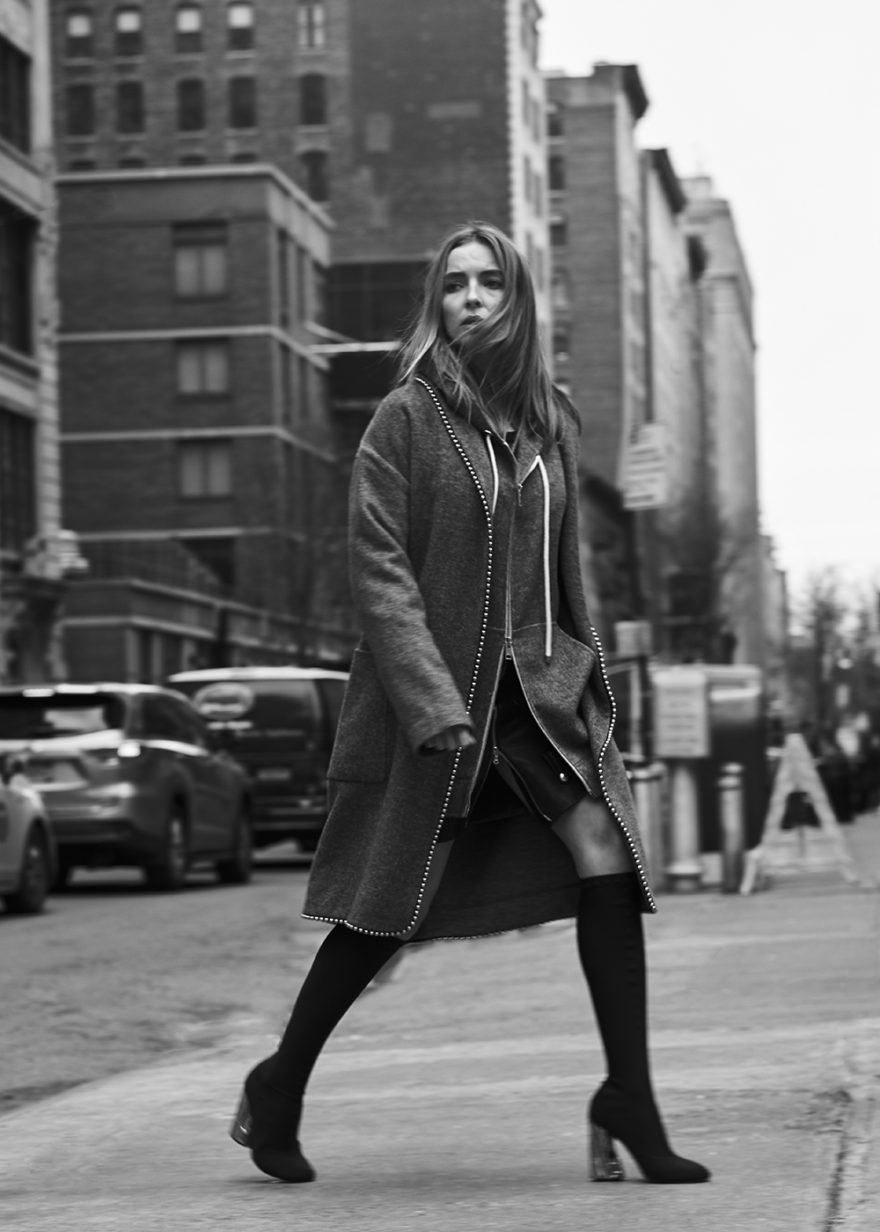 Coat with ball-chain trim by Alexander Wang, Cotton Hoodie by Alexander Wang, Leather skirt by Rhie, Boots with silver heels by Acne Studios
Tech Wool Trench by DKNY, Striped cotton shirt by MSGM
TEAM CREDITS
Talent: Jodie Comer
Photographer: Chad Davis
Stylist/Editor: Christian Stroble
Makeup: Satsuki Soma
Hair: Matthew Monzon
Styling Assistant: Tom Kivell