Oftentimes, we base a character's worth or an actor's ability on how much he or she says within the allotted hour and forty-five minutes that we're given to be immersed in their story. In Christopher Nolan's "Dunkirk," 30-year-old Aneurin Barnard's outstanding performance as Gibson, a mysterious and loyal soldier, shatters this misperception with a heroic "psst" and a heartbreaking confession. Gibson's lack of dialogue in no way lessens his value as a character but communicates the silent panic that encompassed many of the men trapped on Dunkirk beach. Unlike his character, however, Barnard is in no way at a loss for words and took the time to discuss with MONROWE what it was like to play someone who says so little but emotionally provides so much.
ZF: Correct me if I'm wrong, but your character, Gibson, really only has one legitimate line in the film, correct?
AB: Yeah, that's right.
ZF: That was so interesting to me just because he's on the screen for about 90% of the film and yet, for me, as a viewer it never really crossed my mind that he might not be British or that he might be a spy, so that scene where Harry Style's character kind of outs him really took my by surprise. Was that intentional? Did you want the audience to kind of be taken aback by that or did you think we would catch on by then?
AB: No. When I talked to Christopher Nolan prior to filming, we kind of didn't want to allude to Gibson being any different from the other soldiers in any way. It was more of the difficult situation that they were all in; you kind of accepted the fact that these guys didn't have time to sit down and have a conversation because they were too busy trying to survive. We always see the soldiers together trying to stay alive and trying to get off that beach. There are some clues that we put in so that maybe when you look back at the end of the film you go "Oh wow yeah that makes sense now."
ZF: So what do you think was the biggest clue that you put in there?
AB: Well, there's nothing major, apart from the costume. When I do my boots up at the beginning of the film, I do them up in the French Military way, not the British way. And then, also, if you really look at my costume, the jacket is just a little too small for me. It doesn't fit the way the jackets fit all of the other guys. You have to really look to notice. It's little details, like that, that play a big role.  
ZF: Was it hard to really develop a sense of connection to the character without any dialogue to guide you throughout the process?
AB: You're kind of put in the hardest position for anybody that is an actor because you have to tell so much without saying anything at all. A lot of it has to do with the physicality, working with your reactions, the way you're breathing, the way you walk, the way you look, the way you respond, where you put yourself in a scene, the way you don't put yourself in a scene, and working on an emotional level, which is engaging through the face. Also, just embodying what is going on. You can't wait for words to save you, to try and convey what you're trying to tell, it's far more heightened than that.
ZF: Once you were given the role of Gibson and realized that you would have to fully embody his mentality and express it in such a physical way, was there a specific way that you really transported yourself into his mentality and grasped who you felt he really was as a soldier trapped on that beach?
AB: I just tried to make the danger for myself a lot worse than for the other guys because I wasn't supposed to be on any of those boats, I wasn't supposed to be in that uniform, I wasn't supposed to be escaping with those guys; I was supposed to stay put on Dunkirk beach. So, for me, there were a lot higher stakes, so I tried to put myself in a place with Gibson of being at the most danger. I had more to lose. I had more to gain, also. Playing with the idea of fear, but also with the idea of desperation and need were quite critical to finding Gibson.
ZF: The sets on this movie were massive and seemingly pretty immersive. Did that help in fully understanding the enormity of the Dunkirk evacuation and the actual panic that encompassed that beach?
AB: Yeah! I remember myself standing on Dunkirk beach maybe the first day of filming and just seeing all of these extras lined up and facing the water and thinking about that and how it messed with me then, that was a useful tool for us to imagine what actually went on. To be honest with you, there were Spitfires flying over us all the time even when we were filming stuff on the beach which had nothing to do with what was happening in the air because we were filming things at the same time at the same location. What that added, all the noise and the planes — it really affects you. Chris is wonderful at getting as close to reality as possible, so we didn't have much imagining to do. We were there, reliving what had happened in the place that it originally happened. It was quite wonderful as an actor to just respond to your surroundings, and that made it more real, it made it easier to make it more real because it was all just around us. We could be absorbed in this world and every day come out and recreate in our own special way this survival story at the beginning of World War II.
ZF: How was it working with Christopher Nolan, let alone working with him on a film of such a massive scale?
AB: It was fantastic. He is a master at storytelling. He's amazing at using old methods of cinematography and making them new, and Christopher really knows the inside out of everyone else's job. He knows exactly what everyone does in detail, and I think he has a lot of respect for his people because of that. He wants to know what effects are being used, he wants to know how the camera is being built, what lens is being used. He's like a conductor of an orchestra, you know, he makes sure that everyone plays in tune and everyone plays at the right moment they're supposed to.
When people need to be loud, he makes them loud. When people need to be quiet, he makes them quiet. He's an artist in what he does. He's an absolute pleasure to watch, and exhilarating to watch, as an actor. He becomes the captain, he becomes the boss and he's a fantastic boss. He sets the standard everyday. Every morning he sets the standard and until we call wrap at the end of the day he is the one who's always looking at what to do next and what we're missing. He has an incredible mind. He's also a very lovely gentleman, also. It was just an absolute pleasure to work with him and be directed by him, and, also, be trusted by him to take a part of his story and make it real.
ZF: When you got to actually see the final product were you as taken aback, as I think a lot of people have been, by — not only how it all came together — but just the beauty of it all? It's a beautiful movie visually.
AB: It's tricky because it was only a few of us who had the whole script. A lot of the other actors in it were only given mere pages, so we had a better understanding of what the whole story was, but no idea of the trickery that Chris was going to convey with his edit group. It's so refreshing to create a piece of drama or shoot a whole movie for five months, and you're in the whole thing but you still have no idea how it's going to come together. To see the finished product and be so surprised by how wonderfully he put it together is great. It's just so rewarding to be in this industry when you get to be a part of those kinds of accolades.
ZF: So, what do you think the biggest thing is that you've taken away from playing Gibson?
AB: Good question. I think I learned a skillset to trust in what is going on and not what is being said. For me, I find what people don't say far more interesting than what people do say, and I find that the most interesting part of drama or storytelling is in the reactions of the people. So, to play a whole movie in that way, I think that's the biggest thing I can take from it; to trust that people are listening to me without me saying anything at all times and just trusting the beats in between.
Tan and Cream Shearling Jacket is Vintage
Black Wool Sweater is Army Regulation Issue
Mauve Trousers are Vintage
Army Green Wool Jacket is Army Regulation Issue
Silk and Cotton White Crew Sweater by Sulvam
Navy Blue Wool Pants are Vintage
Black Boots by Moschino
White T Shirt by Hanes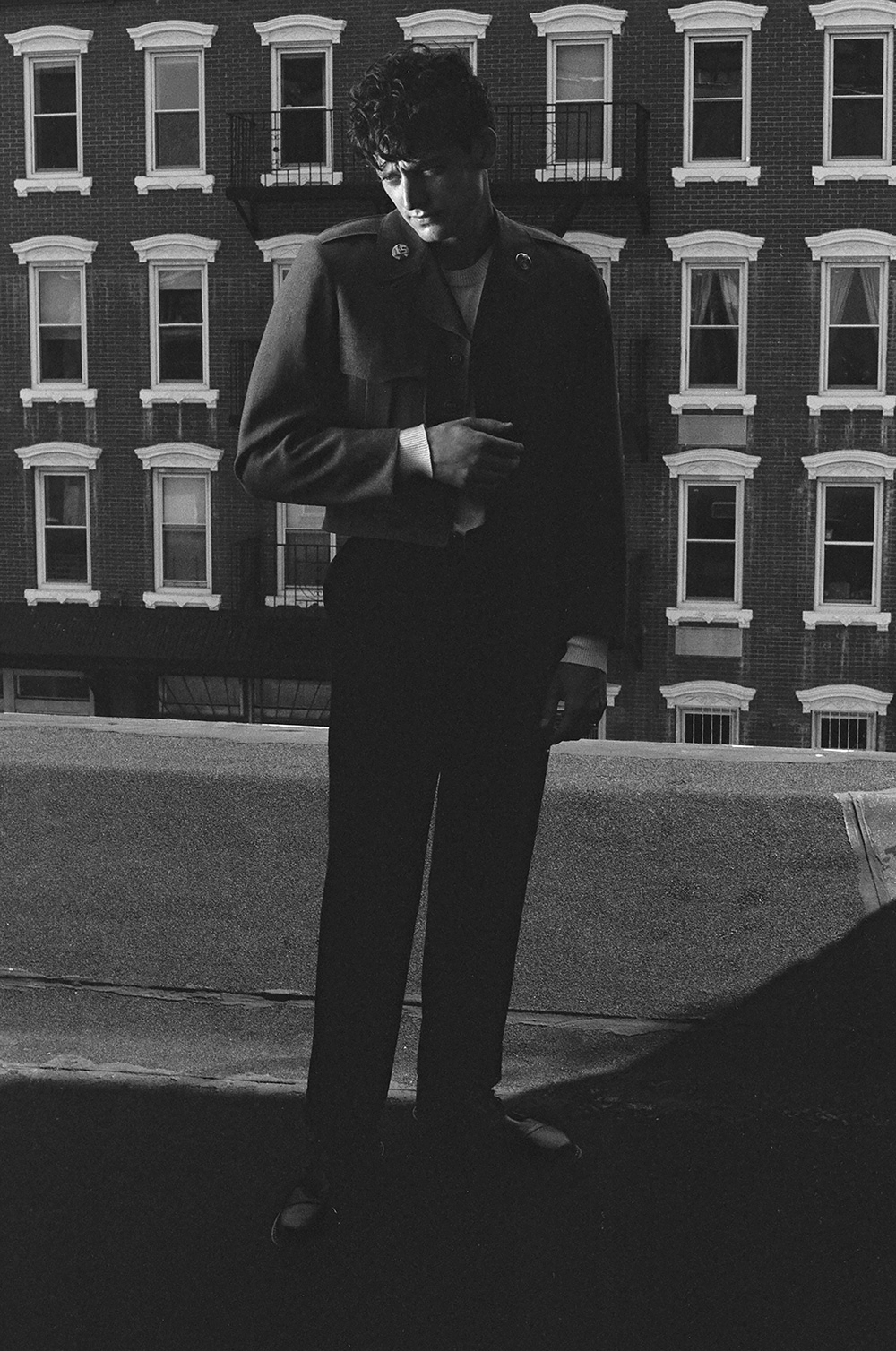 Military Green Officer's Coat is Regulation Issue
White Cotton Mock Button Back Shirt is Vintage
Black Trousers by Rick Owens
Tan Wool Button Front Shirt with Pockets is Army Regulation Issue
Cream Wool Trousers are Vintage
Aneurin Barnard | Team Credits

Photographer: Francesco Barion
Stylist: Katie Keim
Groomer: Leon Gorman @ art-department
Featuring: Aneurin Barnard – DDAPR GROUP
 Thank You: Rebecca's Vintage, Bordentown NJ and Eye Candy NYC