The great thing about playing a character who gets killed in the Marvel comics universe, is that nothing stops the showrunners from resurrecting you from the dead— more than once if necessary.
Silk animal print dress by ALYX
Silver bracelet by Guerin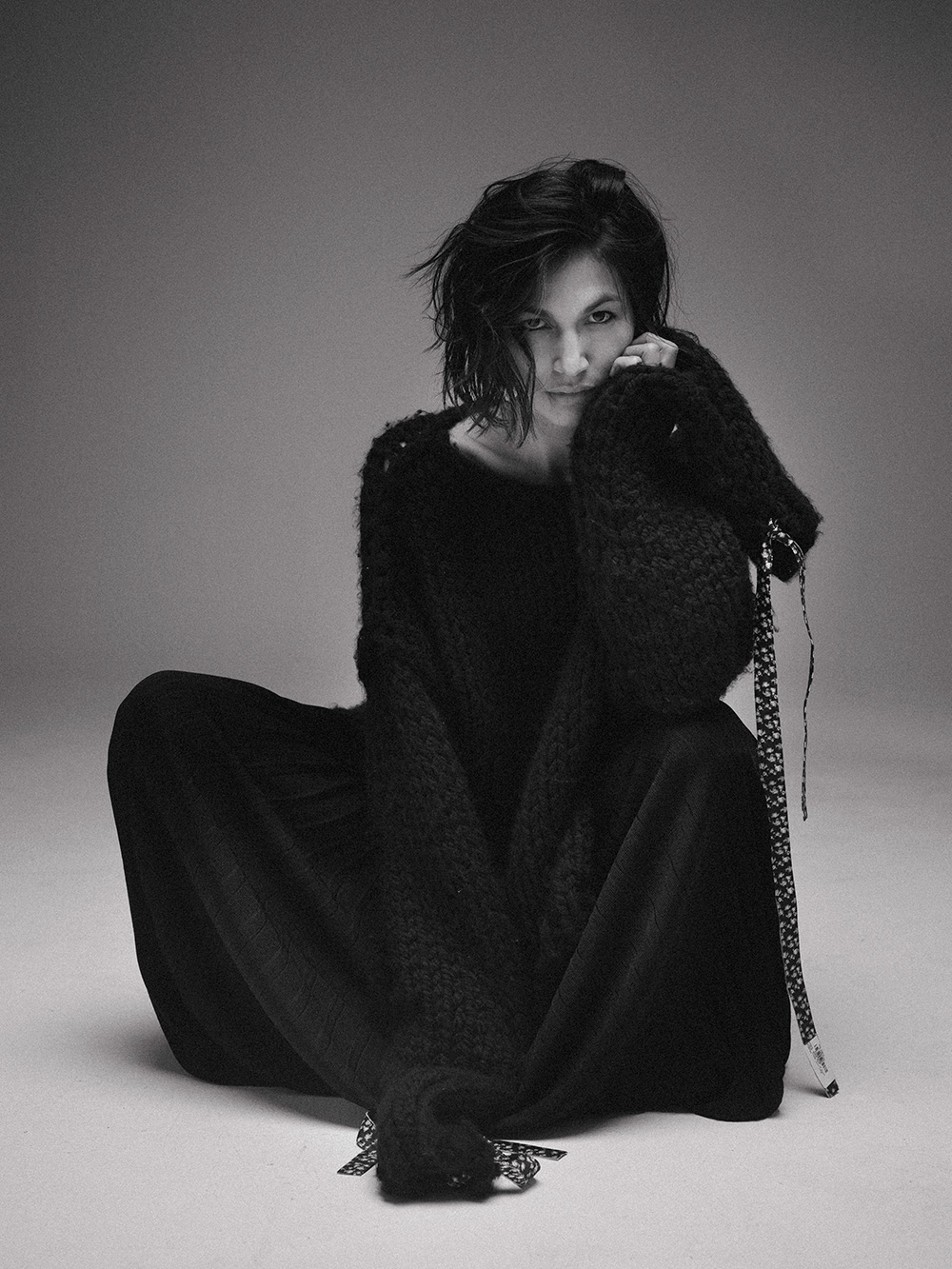 Whatever your opinion of Luc Besson as a filmmaker or screenwriter, it is difficult to deny he's long had a je ne said quoi for creating memorable female characters. Consider Mathilda, the precocious pre-teen assassin's apprentice, played so seductively by Natalie Portman in Léon (a.k.a. The Professional), which launched the actress's career in 1994.
But at least for me, one of Besson's most fanciful, fiercest, and most uncompromisingly bad-ass action anti-heroines was the dystopian Banlieue gang leader, Tao—a comparatively minor character, played by Elodie Yung, at the time an unknown actress, in Besson's rather less than critically acclaimed 2009 District 13 sequel.
While Yung only appears for the final twenty minutes of the movie, she steals the show hands down, with a stylishly feral sangfroid, sinister intensity, and a boldly confident sensuality. Her hair piled into a messy bun—or when she let it down, her thick braided locks flourished as a lethal weapon with a steel razor fastened to the end—her face and forehead, neck and forearms are adorned with an indecipherable arabesque of black tattoos. And she is utterly convincing as a shrewd, charismatic sociopath for whom killing is a everyday event, and hand-to-hand combat very much her idea of pleasure. Chilling to be sure, but rarely has bad, on the big screen, looked half so good.
Over sized knit sweater by PASKAL, Knit pleated skirt by Balmain.
Accordingly, though fans of Yung can only be heartened that Yung has become a familiar face to a far larger, more international audience—mainly on the small screen during the past year and a half. First, playing Elektra Natchios, Daredevil/Matt Murdock's troublesome "ex" (and a somewhat similarly conceived, rather more bourgeois kick-ass sociopath) in the current Netflix/Marvel partnership which produced last year's second Daredevil series and this year's 8-part Defenders. More recently, Yung appears in the Hollywood action blockbuster, The Hitman's Bodyguard—notable for teaming up Samual Jackson and Ryan Reynolds, where she plays a dutiful interpol agent, and functions as a foil for much of the film's bromantic bickering and ultra-violent black comedy. For myself, though, I must confess that I impatiently await seeing Yung let loose again to eat up the scenery without restraint on the big screen, where she is so clearly at home.
Yung, whom past press accounts have often pointed out, grew up in the real life Banlieue of Seine-Saint-Denis on the bleak outskirts of Paris, and became a black belt karate champion as a teenager (encouraged by her father—a Cambodian refugee from the Cambodian war—to take self-defense classes when she was nine). Her acting career, however, was evidently something of an accident that began as a lark, while she was a law student at the Sorbonne (with the ambition of becoming a judge), when a friend encouraged her to go on commercial casting call.
Speaking with MONROWE from Los Angeles, where Yung now lives, the beguiling timbre of Yung's voice is a combination of cultivated British English with a decidedly chic Parisian lilt.
GUY LESSER: Is it true you made up an acting resume whole cloth to get your first part on French television?
ELODIE YUNG: I did. Yes. I did. There was a woman casting for a series [La Vie Deviant Nous] and she asked me if I was an actress, and I said yes. I wasn't at the time. I really wasn't. My Dad, I think, sent pictures of me just to make it look professional. And I lied and said I did three years at a very famous theater school in Paris.
GL: My command of French is primitive, so I'm afraid my attempt to watch La Vie Deviant Nous wasn't particularly productive as homework.
Silk Coat, Tank top, Silk Pants by Haider Ackerman
Circle Silver necklace by Guerin
EY: Have you tried? If you don't speak French it would be a bit painful— I assume they don't have subtitles.
GL: No.
EY: Well, thank you for trying.
GL: According to the Washington Post, your audition for the part of Elektra for Daredevil sounded quite a daunting, elaborate process.
EY: [The Post] didn't lie. It was an elaborate process but it was good, though. It was a blind audition, and they didn't tell me what I was auditioning for, or what character. They gave me two scenes, then changed the scenes, and gave me different notes, and I had to come back into the room many times. Then finally, I got to test with Charlie Cox, and I knew that I was auditioning for Daredevil, which gave me a bit more information to enrich the character I was creating. So yes, it was a long process, but it was worth it. Elektra's an interesting character– who's completely crazy, but at the same time, you feel for her.
GL: It's interesting to have a character whose curse or weakness is her potential to be good.
EY: I was thinking about this the other day, and saying in an interview, she's strong, and driven, and she's got her own agenda, but her weakness is the love she has for Matt Murdock [a.k.a. Daredevil]. And that's also something that can happen in life—though maybe "weakness" is not the right word. It's her soft spot or "Achilles heel." Otherwise she would be just a sociopath, carrying on what's she doing without questioning anything. But that's not the case because she loves [Murdock]. When I did [the series] last season, I saw her like someone who'd grown up in a cult, being trained and told a story from a young age to fight and serve a cause. And then meeting Matt who had another take on the whole story [and received the same training], opens her eyes, and makes her question things— which she wasn't doing until then.
GL: Did it ever worry you that as a character Elektra was such a longtime fan "favorite" about which Marvel audiences might have particularly passionate opinions?
EY: Oh no! I just really enjoyed the process of this crazy audition because the material was good, the scenes were very well written, so I knew I was touching a character that was quite unusual. Then, once I was working on the project, I discovered the comics—I didn't know anything about the comics—so to me, it was more immersing myself in a new world, and being excited about how many layers she has to her. I'm glad people appreciate this version of Elektra, my Elektra, and everyone's happy. I would have been upset, I think, if people on Twitter would say, "you're a really crap Elektra", since it would mean that somehow I'd hadn't done my job as I should have. But what matters to me is I enjoy being her. What drives me in the creation of a character is I focus on the material.
GL: Netflix would only let me watch four episodes of the Defenders before talking to you—
EY: You're lucky. . . I only saw two. You can't complain.
GL: Sigourney Weaver has risen you from the dead, but you aren't quite all there.
EY: There's definitely more to come. They've plotted wisely, it just comes slowly. It was quite exciting to me to reprise a role I loved, but when Alexandra brings Elektra back to life, it's another story, and she doesn't remember who she is, so she's almost a new character. At first you see Elektra as a weapon used by Alexandra to get what she's after. But of course Elektra's always been a free spirit and strong-minded, so I think we can hope her memories and her identity will come back to her. And she's always been after Matt, and I think the bond is still there.
GL: Tell me something about the Hitman's Bodyguard.
EY: It was quite a big surprise to me, and pretty much the first time I've been in a comedy. When they approached me, they said it's a bromance between Ryan Reynolds and Samuel Jackson, and an action-packed comedy. And I was like, yeah, I'm in. I think it's genius to have those two team up. And it's a really fun, quite intelligent comedy. I also think, in both my part and Salma Hayek's, it feels like some of the cliches about women are killed. Her character is fierce and mine is strong, and straight to the point, and doesn't take any bullshit from her ex-boyfriend– so it kind of inverts the roles you can sometimes see on screen between men and women. I thought it was quite interesting to be part of this movie.
GL: Am I right that you played Juliet when you went to London to study acting at LAMDA [the London Academy of Music & Dramatic Art] ?
EY: Basically, the year I did at LAMDA I just immersed myself in Shakespeare. And it was the first time I got to play a part like that. It was so beautiful, you know. The most beautiful love story, ever. So it was great to die on stage as Juliet. . . . though I might be a bit on the old side to play Juliet. . . .
GL Is theater something you'd like to return to?
EY I'd love to. Ideally if I could do some theater as well as doing movies and some television, I'd be very very happy. I'd love to be on stage. So, yeah, hopefully. Next project—who knows.
Elodie Rising | Team Credits
Photographer: Edgar Berg
Fashion Editor: Christian Stroble
Hair: Rimi Ura
Makeup: Maria Olsson