Where's home?
Brooklyn. I was born in Queens, but I have lived the majority of my life in Canarsie in the same house.
What is the most elaborate lie you've ever told got away with?
When I was 12 years old, I used my grandmother's card that was already connected to the X-Box console to buy Call Of Duty and then blamed it on a friend of mine. She believed me and she still thinks it was my friend who did it to this day.
When do you feel the most confident?
When I'm playing Call of Duty.
Jacket and shirt by Calvin Klein
Left: Pant by Hermes Right: Fedora by Giorgio Armani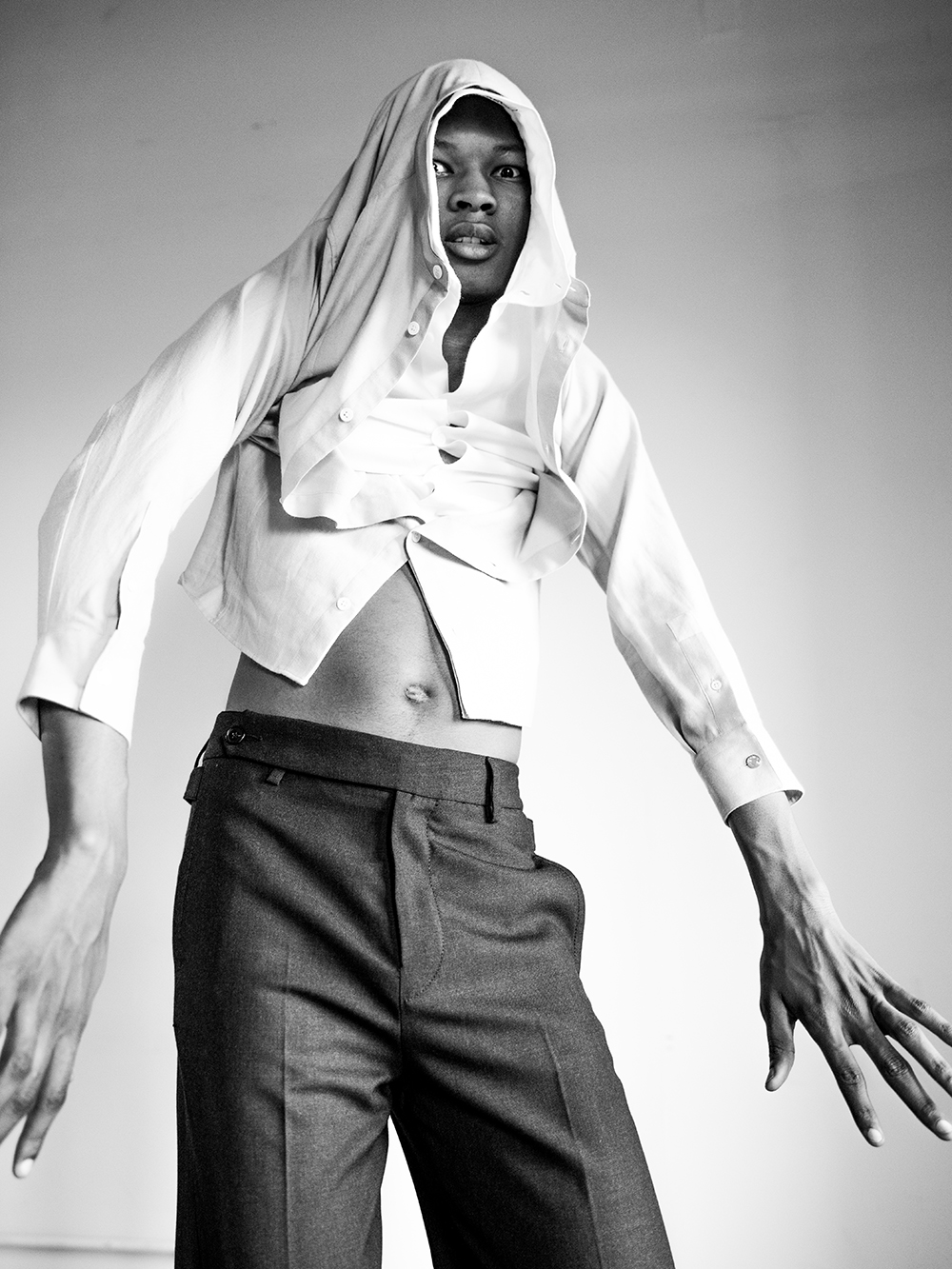 Pants and shirt by Hermes
What is your favorite word in any language and what does it mean?
I think just ''Oh.'' My friends and I have this thing — before we speak when something happens to someone we just go like, ''Oohhh''!
Your favorite recipe for your favorite meal?
I really don't cook, so I guess it's milk and cereal.
Empty out your pockets; what do you have in there?
A phone, another phone. Five dollars, the bottom half of a check, 56 cents, my debit card and ID.
What is your present state of mind?
Right now I'm just living as the days go by. Every day is a different thing for me.
Left: Pants and shirt by Hermes shoes by Diesel  Right: Coat and sweater by Valentino pants and shirt by Hermes
If you could give some good advice to people, what would that be?
Do well in school. You should really do well in school. Because when you get to your senior year, you realize how bad you did in the past and how you can't fix it at this point. There are certain things you really cannot fix.
How did you get into modeling?
Being a model was never something planned. It just happened. I guess I got lucky!
It was after a state test. After we were all done with it, me and like eight friends walked into to a Chipotle. This guy, who I now know is called Jimi, was sitting there and we just walked past him. I noticed him staring at me, and I even told my friends, ''this guy is staring at me!'' And finally, he came around the corner and asked if he could take a picture of me. And I'm like… "Sure, I guess.'' So he took the picture introduced himself as Jimi Urquiaga, showed me his website, explained that he is a stylist. He sent that picture to Blake, at New York management, and that was it. I'm lucky to be in my final year. If all this happened last year it would have been really hard to make it all work.
What the most memorable moment so far in your career?
Walking for Calvin Klein. When I got there and walked into the backstage area I was like ''wow''. I was amazed at how big it was, and how much people were involved.

And meeting Raf Simmons was cool! He is really nice.
Pants and shirt by Hermes
Jabali Sandiford, Casting room no.20 | Team credits
Photography: Michael Donovan
Stylist: Lisa Jarvis
Hair: Tsuyoshi Harada
Makeup: Miriam Robstad
Model: Jabali Sandiford @New York Models
Creative Direction: Anna Grun
Production: Taylor Vranish
Thank you to Colony Studios Brooklyn