Right now, American television audiences may only know Gustaf Skarsgård as "Floki"—the quirky, often lovable, moody, manic, intensely religious, remarkably inventive, and sometime homicidal boatbuilder—whom Skarsgård plays on the History Channel's hit series Vikings (which will begin its fifth season tonight). Or, possibly worse—as Alexander and Bill Skarsgård's brother. Or even—perhaps to diehard Lars von Trier fans—as Stellan Skarsgård's son.   
But in Sweden—where Gustaf grew up in Stockholm's tightly-knit bohemian creative community of artists and actors, the Skarsgård family's formidable acting chops have long been a matter of local pride. Beginning, in Gustaf's own case with his 1989 feature film debut, as a scene-stealing nine-year-old opposite his father in Täcknamn Coq Rouge (the first of numerous Swedish film and tv adaptions of the popular "Carl Hamilton" spy thrillers—sometimes loosely compared with the James Bond franchise). 
In years since, Gustaf has memorably played Hamlet in a Stockholm production that had a six-month theatrical run, and has created a remarkable range of complex characters on film—many of these in comparatively small budget independent movies—including Evil, as the sadistic head of house at an upper class Scandinavian boarding school; as a simple Latvian priest in Peter Weir's haunting World War Two saga, The Way Back (about the unlikely escape and epic journey made by a band of Siberian gulag prisoners who walk to freedom in India); Patrik, Age 1.5 (a screwball comedy about a gay couple who mistakenly adopt a teenager); and most recently, in the poignant independent film, Darling (which awaits release in the US) about a rising ballet choreographer unable to acknowledge the far greater artistry of his wife or her essential contributions to his work. 
Next year, however, all of this may change for Skarsgård. And there's every chance the actor's remarkably versatile talents will become much more widely recognized. Even if nobody's willing to say much about the upcoming second season of HBO's Westworld currently in production—including Skarsgård— the Hollywood trades have been buzzing for weeks about his joining the critically acclaimed series as a regular.
MONROWE and Skarsgård caught up recently by phone.
Black leather zip jacket by Theory Grey crew neck short sleeve t-shirt by Arcady Black slim fit denim by Nudie​ Jeans

Guy Lesser: Unlike so many of us—still pondering what we might do when we grow up—is it true you decided to become an actor when you were six?
Gustaf Skarsgård: I pretty much decided there and then that this was what I was going to do. And no matter how turbulent and crazy my life has been, I've always been very focused on acting and pursuing that dream.
GL: Do you remember quite what you might have found appealing as a six-year-old?
GS: I don't know. But there was just something magical about it. To go to different places and see things you wouldn't have normally, to pretend you're someone else, and immersing yourself in this—was like a really luxurious game for a child. My love for acting has evolved and deepened over the years. But I can't really remember what attracted me initially—maybe the sweets on set. I do remember the excitement. And I also think  having a father who's an actor, played its part— his passion for his work, and [how] it was something that was even more important than us, his kids.
GL: Did he approve of your becoming an actor?
GS: He always depicted a very realistic image of what it was like, and warned me of the risks, how tough it is, how hard it is to survive, how much effort you need to put into it, and how competitive it is. He was working in theater and my mom was studying [medicine], so, like, we had no money, and there was no glamour about it when I was young—all that came later. But he always encouraged me. Even in school, when we would do plays, he would come. Afterwards he'd be like a critic— "You need to think about this. You need to think about that. Speak slower. Speak louder."
GL: Was there any critical advice you still find helpful?
GS: He always said, when dealing with despotic directors, to look for the child within. But I also think this applies to acting. No matter what kind of character you're playing, the inner child helps make them feel human, complex, and understandable. There's an ambiguity to everybody and a paradox.
Slate​ ​blue​ ​mock​ ​neck​ ​cable​ ​neck​ ​sweater​ ​by​ ​​A.P.C. Black​ ​slim​ ​stretch​ ​denim​ ​by​ ​​Theory
Heritage​ ​Chronometrie​ ​ultra​ ​slim​ ​watch​ ​by​ ​​Montblanc Brown​ ​lace​ ​up​ ​high​ ​top​ ​boots​ ​by​ ​​A.P.C.
Left: White​ ​crew​ ​neck​ ​short​ ​sleeve​ ​t-shirt​ ​by​ ​​Theory
Grey​ ​chunky​ ​cable​ ​knit​ ​cardigan​ ​by​ ​​Theory
Right: Black double faced cashmere coat by Theory White crew neck short sleeve t-shirt by Arcady Dark blue tone slim fit organic denim by Nudie​ Jeans

GL: Your day school in Stockholm, Södermalmsskolan, was, I take it, rather different than the oppressive, English-style boarding school of your movie Evil?
GS: I feel very lucky to have been brought up in the most progressive neighborhood, in the most progressive capital of the most progressive country in the world, and in the '80s­–when Sweden really was a role model for balancing socialism and capitalism. In the school I went to, there was so much creativity and playfulness. And you were encouraged to think critically and with independence. Also, my whole acting training was paid for entirely by the state—as were all the movies and television I did. After the drama program at my high school, I got a top-of-the-line, four-year conservatory education for free. So, I am really grateful for the way that Sweden worked back then. And I am sad to see that go. I feel today that a lot of people forget that one of the reasons that Sweden is doing so well in the worlds of art and music, and has produced great musicians, movies and literature, is because we had that for everyone, no matter what "class" you were born into.
GL: What's Shakespeare like in Swedish?
GS: I did my Hamlet in Swedish. There are pros and cons. But one of the biggest pros is that you get to refresh the language because you translate it. And that makes it more accessible to the audience.
GL: I always think of Hamlet as one of acting's Mount Everests.
GS:  Hamlet was always a dream character for me to play. I know it's such a cliche, but if you ask me, it's the most complex, paradoxical human character ever written.
You have to surrender yourself to Hamlet if you are going to play him. Let go of all the brakes and take the ride. It was painful. But also incredible. And incredibly rewarding. After six months, they wanted to extend it, but I said no, because I knew I'd either start doing it mechanically or I would lose my mind, or my life. When my dad came to see me, he was astonished, and said, "I could never do that." And he said it with such pride and sincerity, I was overwhelmed by that. As a man and as an actor, to get that sort of recognition from my dad, was amazing. A few weeks later, he called me because he felt I was lighting my candle at both ends. This [might make for] an amazing performance, but he was concerned it was extremely self-destructive. I was 29 when I played Hamlet and had been convinced I was going to die before I was 30. So, it was a  wake-up call. And I really started to think about my life and make some crucial changes.     
GL: What came next?
GS: Going back and forth to L.A. until I got Vikings in 2012. Encouraged by my representation at the time, I'd go in for a bunch of stuff that I really didn't want, and wouldn't have done even if I'd got the job. It was excruciating. But even if it were a shitty television pilot, I would still stay up all night, really work hard on my scene, and then I'd come into this room where the casting director wouldn't even turn on the camera.
GL: I've been in that room. How did Vikings and Floki come your way?
GS: Given the nature of the show, I guess they were just looking for Scandinavian actors. But early on, I decided I had to throw a curve ball if the role was going to stand out amongst this group of stoic Viking men. It was also fun to work with Johan Renck [the director of the first season's first three episodes], who really encouraged me to make this crazy guy come to life. He was like, "More! Even quirkier! Go for it!"
GL: There's also something of Shakespeare's fools to the Floki you created.
GS: He's certainly the wise fool you can't take for granted in any way— and in one sense, the comic relief. But then, over the years it's been so much fun to see him evolve because he's also the heart of the show, and his heart is always in the right place–even when he's deceiving someone, and we don't trust this is so.
GL: He also has a certain rock-star swagger.
GS: That's just me— you know.
GL: Understood.
GS: He certainly has some swagger. And initially the whole physicality came to me from imagining what it would be like if you'd been walking around carrying a boatbuilding axe in your right hand your whole life. Right shoulder down, left shoulder up, the crooked posture and his crooked walk. But he's also a killer with an edge of "explosivity" about him. It was definitely fun to find his laughter and his voice, and I'm glad I had the courage to go all-in.
GL: Can you tell me something about "Karl Strand"— your upcoming Westworld character? He's been described as a "white-collar guy, comfortable in the field." Is there anything you can add to that without your tongue being cut out?
GS: No. I think that's a pretty good description, though he's certainly a man of action, and very far from Floki. I can tell you that Westworld is my favorite TV show, and I binged the first season even before I knew I was going to go for it. I just think it's so intelligent and so well-executed, and I'm really grateful to be part of something where everyone feels they're part of something greater than themselves. But we are definitely kept on a need to know basis, and, yeah, I want to keep my tongue.   
GL: Can you tell me what Season 5 of Vikings has in store for Floki?
GS: At the end of Season 4, Floki has a speech when he says, "everything I once was, is lost." He has lost his child. He has lost his wife. And he has lost his best friend. He doesn't even identify himself as Floki anymore. So, Season 5 takes off with Floki building himself a one-man boat, and in an almost suicidal way, giving himself to the will of the gods, by sailing straight out to sea. His journey takes him to what we later find out is Iceland. But not for Floki, who believes he's found Asgard, the land of the gods. 
GL: Is there some way to lure you to New York?
GS: I've never acted on the stage in English and that's something I want to do. A really good play would be awesome.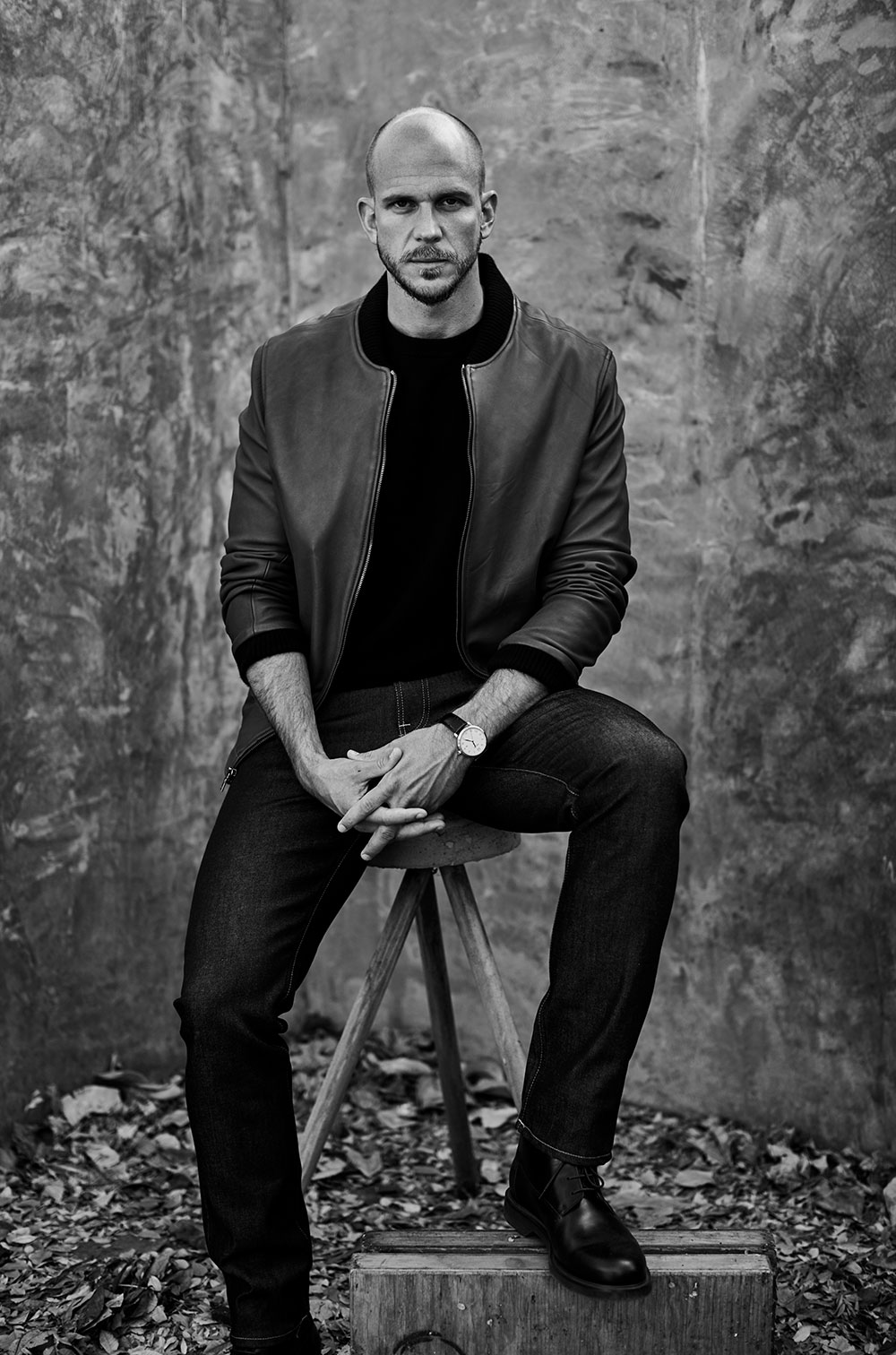 Blue leather jacket with knit collar and cuff by Arcady Black knit crew neck sweater by Arcady
Dark​ ​blue​ ​tone​ ​slim​ ​fit​ ​organic​ ​denim​ ​by​ ​​Nudie​ ​Jeans
Heritage​ ​Chronometrie​ ​ultra​ ​slim​ ​watch​ ​by​ ​​Montblanc
Brown​ ​lace​ ​up​ ​high​ ​top​ ​boots​ ​by​ ​​A.P.C.
Gustaf Skarsgard | Team credits
Photographer: Maarten De Boer
Stylist: Tiffani Chynel
Groomer: Emily Cheng
Talent: Gustaf Skarsgard, @Wolf Kasteler Pr
Producer: Tova Wahlin
Creative direction: Anna Grun